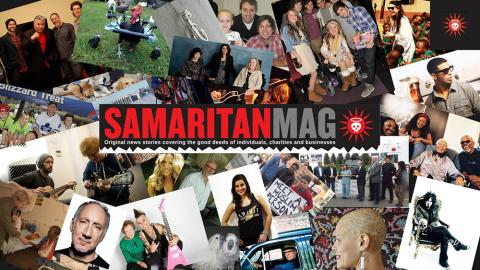 MAILING ADDRESS (PRODUCTS AND PRESS KITS):
SAMARITAN 109 Jersey Avenue,  Toronto, Ontario, Canada M6G 3A5
General Inquiries: info@samaritanmag.com
ABOUT SAMARITAN
Sick of tabloid news? SAMARITAN doesn't care who is dating whom, who gained weight in Hollywood, and who might be engaged. SAMARITAN is for people sick of tabloid news and invasive, mean or silly stories.
SAMARITAN is an online magazine that covers the good deeds and efforts of Samaritans — individuals, charities, small businesses and corporations — anyone trying to make a difference in the world. It is not a "good news" site. In fact, every topic is pretty shitty — cancer, MS, ALS, poverty, animal rescue etc… — but they're about good people trying to change bad things. That is the way we describe it.
If you've noticed that the site is music-heavy, that's because its founder, Karen Bliss, is an award-winning music journalist who has interviewed everyone from Eminem and Kurt Cobain to Shania Twain and Metallica. She is currently the Canadian correspondent for Billboard.
Through her reputation and stable of professional writers, SAMARITAN has interviewed Rush, Shania Twain, Avril Lavigne, Yoko Ono, Robbie Robertson, Tegan and Sara, Samuel L. Jackson, Drake, Neil Young, Metallica, Billy Talent, Ron Howard, The Who's Pete Townshend, Jack Johnson, P. Diddy, Nelly Furtado, Motley Crue, Slash, Larry King, Ed Sheeran, and many more.
SAMARITAN has high journalistic standards; the stories are original — interviews done with our writers for SAMARITAN — not taken from other news sites, as is often the case in today's media world (ie. told such and such outlet). Even short news pieces are written from the original press releases or direct social media or web site posting. Why is this important? Because SAMARITAN articles are fact-checked and comprised of information directly from the source.
SAMARITAN has lofty goals. We want to be as big as gossip news site TMZ. Why couldn't it be?  We just need a little bit of help.
Please share our stories, spread the word, and, if you are able, please advertise or sponsor us or make a donation (please note, we are not a charity or not-for-profit).
We are a one-woman operation (the founder/editor with help from a handful of writers). We'd like to hire more writers, and perhaps even have a full-time staff one day of writers and digital marketers.
If you like what we do, please contact us to sponsor a page or a section, a story or the whole site, or advertise your own cause or corporate giving with an ad.
If you really like our work, and would like to make a donation to sponsor a writer for a year or the site in general, please contact us at ads@samaritanmag.com to discuss.
Products, for consideration in our Products Section, can be sent to:
SAMARITAN – 109 Jersey Avenue, Toronto, Ontario, Canada M6G 3A5
Please note, the company has to either donate to charity, be a social enterprise, eco-friendly, or have some other cause-related angle.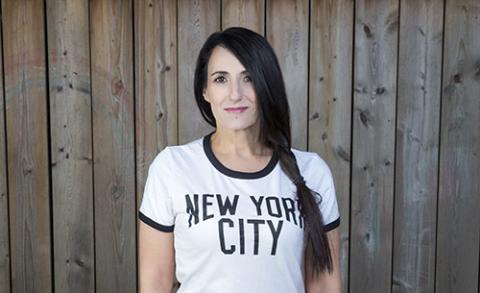 ABOUT OUR FOUNDER
Samaritan is the creation of Toronto's Karen Bliss, a woman with a fantastic job as a music journalist (hence the music-heavy content and skull-with-halo-in-spiky-sun logo) who uses this outlet as her way of giving back. Despite the name, there is no religious affiliation (she is a proud atheist). She still covers music for Billboard and many others, which she loves, but is inspired every day by the samaritan stories she and her writers encounter for the site.  The aim of Samaritan is for others to hopefully find their thing to support or simply to enjoy stories about good people trying to change bad things.
CONTACTS
General Inquiries
info@samaritanmag.com
Pitch a Story:
editor@samaritanmag.com
PLEASE DO NOT SEND MUSIC-RELATED PRESS RELEASES THAT HAVE NO CAUSE/CHARITY ANGLE TO SAMARITANMAG EMAILS; THEY WILL BE DELETED.
Permission is required to reprint any content contained within Samaritanmag.com. Please send requests to info@samaritanmag.com
MASTHEAD
Editor-in-chief/Publisher
Karen Bliss
Regular Contributors
Steve McLean, Mason Bugaresti, Aaron Brophy, Nick Krewen, Charmaine Norohna, Kim Hughes
____________________________________________________________________
SPONSORSHIPS, CONTESTS AND ADVERTISING:
Karen Bliss
karen@samaritanmag.com
ads@samaritanmag.com