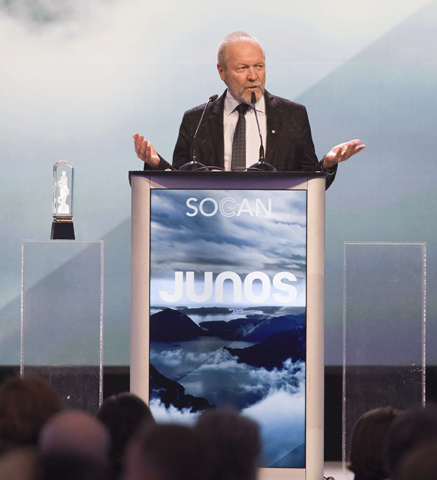 The benevolence demonstrated by Gary Slaight, this year's Humanitarian Award recipient at the Juno Awards last month, and the Slaight Family Foundation over which he presides, can be summarized by a single word: Incalculable.
And the number of people throughout Canada and other parts of the globe whose lives have been enriched and improved by the Slaight largesse since the Foundation's launch in 2008? Inestimable.
To date, the Toronto-based charity has committed gifts in the neighbourhood of $200 million to a list of causes and beneficiaries so numerous that it is impossible to list them all within the confines of this article.
What makes this collective munificence from the Slaight Family – Gary, and his wife Donna, his mother Ada, his father Allan, his stepmother Emmanuelle Gattuso and his daughters Ali and Chrissy – especially extraordinary is the wide spectrum of sectors earmarked for donation.
There are the hospitals, including a $22 million donation in 2009 to establish the Gattuso Rapid Diagnostic Centre at Toronto's Princess Margaret Hospital and an additional $50 million pledged over 10 years in 2013 to advance the Princess Margaret Cancer Centre's Personalized Cancer Medicine Initiative.
That's not withstanding five more gifts of $10 million each to Toronto and General Western Hospital (Slaight Family Centre for Advance MRI), St. Michael's Hospital (the Slaight Family Emergency Department), the Sunnybrook Health Sciences Centre (The Slaight Centre For Image-Guided Brain Therapy and Repair), the Centre for Addiction and Mental Health (CAMH) (to establish the Slaight Family Centre for Youth in Transition) and Mount Sinai Hospital (the Slaight Family Labour & Delivery Unit).
That's in addition to the legacy of the Standard Broadcasting Radiothons spearheaded by the then-president and CEO, that resulted in $25 million-plus being raised over 22 years for Toronto's SickKids Hospital, commemorated by the Slaight Family Atrium.
"When you go in there and see all the kids and see all the good that that hospital does, you can't help but feel good about it," Slaight remarks.
In 2016, the Slaight Family Foundation announced an $11 million donation to 11 Canadian national charities serving children and youth – the Rick Hansen Foundation; Kids Help Phone, Breakfast Club of Canada and Special Olympics Canada among them.
There has been a $7 million donation to NGOs (Non-governmental organizations) like The Stephen Lewis Foundation, War Child Canada, Human Rights Watch and World Vision that have seen schools constructed and established in third-world countries.
And in 2017, a $12 million donation to 15 not-for-profit charities aimed at improving the life for Canada's Indigenous populations –  ArtsCan Circle, Camp Onakawana, The Gord Downie & Chanie Wenjack Fund and Indspire among them – was also bestowed by the Slaight Family Foundation.
"I consider myself fortunate that we're in a position that we can do that, and that we can do that in a meaningful way," says the Edmonton-born Slaight, a Canadian Music Industry Hall of Fame former broadcast executive who serves as the Foundation's president and CEO, modestly.
The Slaights' generosity was made possible in 2007 when the Slaight family sold their 52-station radio empire (and other related businesses) to Astral Media in October 2007 for an estimated $1.08 billion.
But even prior to the transaction that afforded the family the financial freedom to practice its altruism, goodwill was common practice in the Slaight household.
"We were always taught to be generous and we were always taught to try to do good things if we could," Slaight remembers. "But both my Mom and my Dad were very involved in different charities as I was growing up and later in life. My dad ran the United Way campaign one year in Toronto – which was a huge job – and both were on the board of the Shaw Festival and Young People's Theatre and all sorts of things that they did."
Once Standard Broadcasting – which Allan Slaight had purchased from media baron Conrad Black in 1985 – was sold, he and Gary decided their future courses of action, which included supporting another one of Gary's passions: music.
"At that point in time, my father and I decided to set up the Foundation and also around the same time we started looking at what we could do to support Canadian music. Those were really the two things that we decided to do. We don't need to make more money. We have more than we ever dreamed that we would have. So, it's a matter of how you spend your time and what do you do with the money. We decided to spend our time on music and charity and use our money to help people in both those areas."
Because they're a private foundation with no shareholders to answer to, the Slaights could dictate their own terms of consideration. In the majority of cases, they don't simply hand out cheques, but instead focus on sustainability: The Slaight Family Foundation's endowments are specific and strategic.
"We're approached all the time," Slaight explains. "So, we decided, rather than things coming our way, to be proactive and to look at sectors and segments and try to make a difference in a bigger way than just writing cheques to one organization."
Slaight says he works closely with Terry Smith, a consultant who provides the administration and due diligence for the Foundation.
"We've done the four – the hospitals, the children's charities, the NGOs and the aboriginal gifts last year – and now we're just working on a new category – the elderly, specifically, in Toronto. We just think there's a lot to be done there to take care of them."
The majority of the gifts are spread over five years.
"We feel five years is the right period of time to let it have an impact and make sure it's effective," he notes. "We keep track and monitor and – assuming they're doing a good job of spending the money the way they had agreed to spend the money – then we don't see any reason why we wouldn't extend the gifts."
In 2011, Gary Slaight and Derrick Ross founded Slaight Music: its mandate is to support the Canadian music community and develop Canadian talent via strategic partnerships with industry peers. Artists under the Slaight banner include Kayla Diamond – who recently surpassed 1 million Spotify streams; Jessica Mitchell, currently opening act for Johnny Reid; The Ascot Royals, Jillea, Sam Drysdale and others.
Slaight Music headquarters in downtown Toronto also offers their roster free access to a recording studio; a space where they can hone their creativity.
"I love music and I love seeing emerging Canadian talent do well," Slaight says. "We try to find ways to help them do well. It's a tough business. There's only three major labels left: there used to be six or seven. The labels still do a good job, but they don't do as much as they used to do in terms of developing local talent. So, we try to plug in the holes in certain places where the artists aren't getting the support they used to get. With our artists, it's almost like family."
Again, Slaight philanthropy has been tireless and unwavering  when supporting music organizations like MusiCounts – Canada's music education charity associated with CARAS and The JUNO Awards that keeps music alive in Canadian schools and communities by donating music instruments to school music programs – and the Unison Benevolent Fund, a non-profit organisation that provides counselling, emergency relief, and benefit programs for those in the Canadian music community who face personal or professional challenges due to hardship, illness, or economic difficulties.
But those aren't the only music-related recipients: the Polaris Music Prize via The Slaight Family Heritage Prize, The Slaight Family Music Lab at the Canadian Film Centre, The Allan Slaight Stage at Massey Hall, The Allan Slaight JUNO Master Class, Canadian Music Week Allan Slaight Humanitarian Spirit Award, The Canadian Songwriters Hall of Fame via The Slaight Music Emerging Songwriter Award, the Slaight Family Scholarship for study at Boston's prestigious Berklee College of Music, and Slaight Music's It's Your Shot competition add up to millions more in commitment dollars to fostering Canadian musical talent.
Most would consider it more than enough if The Slaight Family Foundation ended its commitments there. But there are other causes that the Slaights devote their individual time and resources to that lie outside the Foundation's patronage.
"My stepmother, Emmanuelle Gattuso, who's really responsible for the same day diagnostic cancer center at Princess Margaret – that was her initiative – and she has her own foundation, she does a lot of charity work," Slaight adds. "My wife Donna is on the Human Rights International Board and does a lot for CAMH – she founded the CAMH Gifts of Light program, which provides emergency necessities, creative courses and potential educational opportunities. Those are Donna's two passions."
He says that his family's magnanimity is a source of pride and derives satisfaction from both that and helping musicians.
"I didn't think we'd be as good at philanthropy as we've become," he admits. "I think we've done a great job in finding a different way to do philanthropy; looking at the categories the way we have and trying to help a segment; making sure that money that goes out that's going to be used for something that's definitely helpful, so that's number one. I think number two, the way the music company evolved and all the work we've done with all of the artists that we work with has been really rewarding."
Slaight is equally touched to be the deserving recipient of the 2018 Humanitarian Award.
"I'm honoured, but also I don't really love the spotlight, so I'm a little apprehensive about the evening," he says. "But I think for our family and for all the things that we try to do and have done, I think it's a great honour for us."
Oh, and there's one more word that describes the effect the inspiring Slaight family and their selfless donations have had on society: Impact.
(This story first appeared in the 2018 Juno Awards souvenir program. The Slaight Family Foundation is a financial supporter of Samaritanmag)
Watch Gary Slaight receive the Humanitarian Award:
Air Jordan 1 GS