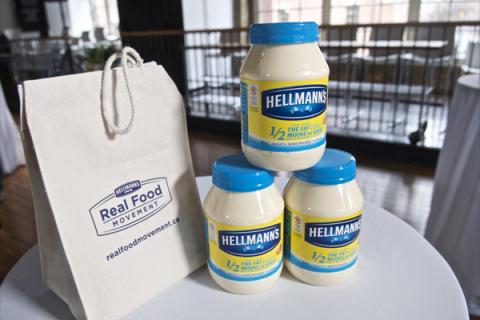 A recent national study showed that 92 percent of Canadians with kids believe that consuming food made with simple, natural ingredients is important, but just six percent of them make all of their meals with it.
Hellmann's, which makes a number of different types of mayonnaise, wants to make it easier for these people to enjoy the pleasures of what it calls "real food" by providing $100,000 in food grants to support community initiatives that will help Canadian families eat healthier.
School and community-based groups and families that create a community event or experience to educate children about real food and connect them with it are eligible to apply for the grants, which will likely range from $500 to $10,000 in value.
Suggested initiatives include hosting a real food picnic, launching a real food lunch week or longer term program for a classroom or school, organizing a group trip to experience real food, creating a real food festival or event, or starting a community-based garden or greenhouse. People are invited to use their imaginations, however, and grant applications are being accepted until June 30 from those who fill out submission forms found at www.realfoodmovement.ca.
The web site also offers: a downloadable real food guide; tips on seasonal eating to insure availability of fresh, locally grown and raised produce, meat and poultry; guidance on where to purchase real food in communities across Canada; recipes using Hellmann's products; and other information about healthy eating.
adidas superstar damen glitzer silber