Idol Judge Brings Reality to Classrooms Via Unique Education Curriculum
Back when Farley Flex was 15 – long before taking his seat as the sharp-dressed  judge on CTV's Canadian Idol – he had a career epiphany.  Promoting a break-dancing competition at Roller Palace in his hometown of Scarborough, ON, he looked out at the floor and saw 1500 people from all different backgrounds moving to the beat. "I thought, 'Wow, this is what music does.'  And I knew it was for me," he says.

That moment of self-discovery allowed Flex to home in on what he enjoyed most and what he did best.  He used that understanding, he says, to carve out a meaningful career that incorporates his three loves:  entertainment, sports and people.

Today, through his company Plasma Management and Production, Flex manages teen singing sensation Daniel Panetta.  He's also a highly regarded music promoter, social activist, motivational speaker and a smart businessman dedicated to helping today's youth find and follow their own career dreams.
Flex's latest business vision is called R.E.A.L. School – Reality Education and Applied Life Skills – a middle and high school curriculum he designed that targets "pop culture" industries that attract young people – music, sports, film/TV, multimedia, fashion, communications technology and food/drink.

"Since kids are already interested in these industries, which are heavily marketed to them, let's bring them into the classroom and use them to teach academic subjects like English and math," Flex says.

"Kids today are absorbing information 24/7 through technology and media advertising, and schools can't fight that," he says. Rather than considering it all a big distraction that must be turned off so kids can hit the books, Flex says schools should be harnessing the attraction kids feel toward these industries.

R.E.A.L School, which was first launched in September 2008 at Scott Collegiate in downtown Regina, SK, uses hip hop or video games or shoe shopping or whatever else kids are into as teaching tools.  "Hip hop is essentially the carrot that gets kids excited to learn the ins and outs of the business.  It's a smoke and mirrors kind of thing," he says.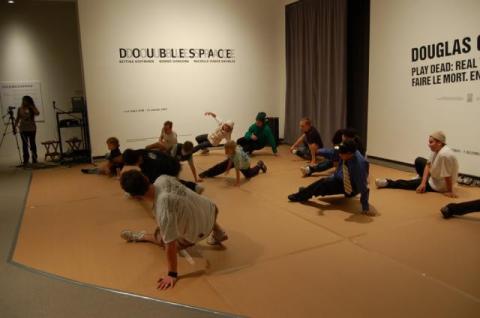 The program starts with teachers and peers interviewing students to determine their interests, personality traits and skill sets.  "Teachers ask questions such as: 'Why do you hang out with Sue?'  'What is she good at?'" Flex says.  In addition to recording answers, they have to watch body language to recognize subtle signs of interest.

Next, the students are assigned roles that best suit them in a virtual company in their industry of choice.  They are each given a job description and a corresponding fictitious salary.  In the film business, for instance, the company might be Universal Pictures, and there are many roles to fill from director to marketing manager to screenwriter, Flex says.

Each company then selects an iconic person or product to manage – like Beyonce in the music biz, the Big Mac in food, or the movie X-Men in film.

Much like in The Apprentice, the companies face regular challenges derived from real life circumstances that industry professionals say are common hurdles in their fields, Flex says.  In the end, they often come down to accountability and teamwork.

"If your team has to present a marketing plan next Tuesday at 9 a.m., you have to be there and you have to be prepared," Flex says.  "If not, the entire company suffers, and that's critical to appreciate before you go out into the real world – whether you work at Home Depot or IBM."

As part of a company, Flex says, you are forced to think about all aspects of business such as publicity, marketing, sales, even money management.

"If your job as a first-year promo person earns you $30,000 a year, you can't go out and buy LeBron James sneakers every month," Flex says.

In fact, he says, software for the R.E.A.L. School program, which is currently being developed, will disallow purchases that make no financial sense.

Learning to manage money is hard for kids, Flex points out, especially when they grow up in disadvantaged communities.

"Ironically, these kids spend a disproportionate amount of income on symbols of success they don't need," he says.  "Owning an iPhone matters way more than paying rent because of the boost of self-esteem they get from showing it to peers."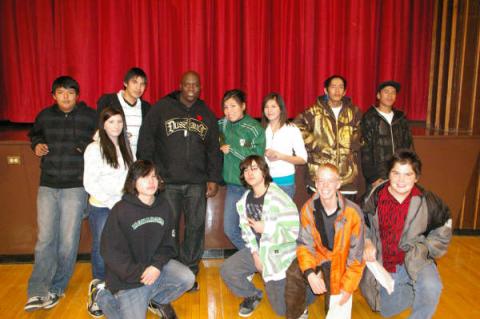 Flex is now pitching his program to various school boards in Canada, starting with Toronto, Durham and York as well as northern, more remote schools in Alberta and Saskatchewan.

While all kids benefit from R.E.A.L. School, he is careful to include those from marginalized circumstances ranging from First Nations communities to inner city and rural regions.  He says people forget to pay attention to those kids and, therefore, they are in real need of encouragement and support.

"When we launched the program at Scott Collegiate, the school had an 80 per cent dropout rate in grade 11.   The kids really needed to be engaged in learning so they would stay in school," Flex says.

For those students enrolled in the program, attendance increased by approximately 25 per cent, he reports.

Kids who are not encouraged to figure out what turns them on at an early age may go on to take any old job just to make a living, Flex worries.  "The fact is not many six-year-olds say I want to work at a call centre when I grow up.  The job might be well-paying but it's probably not the person's ideal choice," he says.

By contrast, he says, the lucky few who follow a career path that excites them will feel on a Monday morning the way most employees feel on a Friday afternoon.

But most people don't enjoy their work, Flex says, having questioned thousands of workers over the past five years to determine if they experience what he calls "job joy."  The results are disheartening.

"Only eight per cent report that they are working at their ideal jobs," he says.  "That means there is a huge number of people out there who are not living their dreams."
Asics Onitsuka Tiger