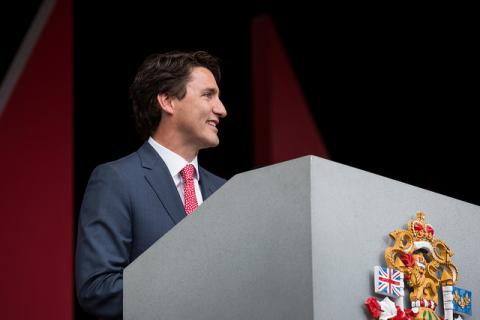 On the 15th anniversary of 9/11, Prime Minister Justin Trudeau asked Canadians to volunteer on what the U.S. government officially recognizes as The September 11th National Day of Service and Remembrance.
Encouraging people to volunteer on this day was first launched in 2002, a year after the terrorist attacks that took almost 3000 lives, by the nonprofit 9/11 Day and supported by various 9/11 community and national service organizations. 
In 2009, U.S. Congress declared Sept. 11 as a National Day of Service and Remembrance "under bipartisan federal law, and charged the Corporation for National and Community Service with helping to support this effort across the country."
In Trudeau's statement, he asked Canadians to do the same.
"Today, we mark the 15th anniversary of the terrorist attacks in the United States that killed nearly 3,000 innocent victims – including 24 Canadians. On this solemn day, we join with the families and friends of the victims to remember and honour those who fell. We also offer our heartfelt support to those still struggling with the physical and emotional injuries they sustained on 9/11.
"We recognize the extraordinary courage and bravery of the first responders on that day and the days that followed. We honour the EMTs, the firefighters, the police officers, and all those who ran toward the sounds of danger and the plumes of smoke, risking their lives so others might live.
"While 9/11 will long be remembered as a day of destruction and terror, let us also remember it for the remarkable humanity that was shown in such a tragic time. May we never forget the countless Canadians, from coast to coast to coast, who opened their hearts and their homes to those affected by the attacks.
"On behalf of the Government of Canada, Sophie and I encourage Canadians to remember the tremendous outpouring of goodwill shown on 9/11 by participating in charitable and community activities, and other worthy causes across the country, as part of the National Day of Service."
On the web site for the Corporation for National & Community Service, people could register their volunteer service, invite others to join them, post about it using #911Day and find volunteer opportunities.  There are also free marketing materials, such as social media buttons, and widgers for use on blogs and website.
 "As in years past, we anticipate service and remembrance activities in all 50 states, at which there will be opportunities for hundreds of thousands of volunteers to paint and refurbish homes, run food drives, spruce up schools, reclaim neighborhoods, and support and honor veterans, soldiers, military families, and first responders," it states on the web site.
"To find opportunities to serve during this year's September 11th Day of Service and Remembrance, you can look for projects using the "Find volunteer opportunities" tool. Or, to organize a service project in your area, find toolkits and other resources here. Tell us about your September 11th volunteer experience on your favorite social media platform and make sure you tag it with #911Day."
In 2015, 9/11day.org released a video campaign called Hope Was Born on 9/11, featuring some of the 3,000 children born on that fateful day in 2001.
Air Jordan 1 Retro High OG "UNC Patent" Obsidian/Blue Chill-White For Sale