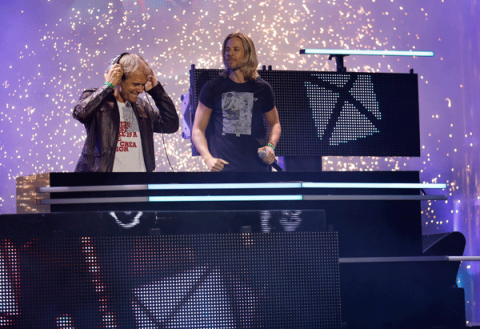 The smash hit "This Is What It Feels Like" by Dutch trance music DJ Armin van Buuren and featuring Canadian singer Trevor Guthrie, formerly of the band soulDecision, might have a feel-good vibe, but people might be surprised to learn of its inspiration lyrically.
"This song was written about someone who came down with brain cancer," Guthrie tells Samaritanmag.  "It was my next door neighbour, a good friend of mine. I put myself in his family's situation."
"Nothing to hold but the memories and frames," goes one of the verses. "Oh they remind me of the battle I face / Without your love, without you I drown / Somebody save me I'm going down."
The chorus follows:
"And I don't even know how I survive / I won't make it to the shore without your light / No I don't even know if I'm alive / Oh, oh, oh without you now / This is what it feels like."
For that reason, Guthrie — who did record an acoustic-folk song under his own name called "Strong Hands" in honour of the World War II veterans and their stories about fighting for freedom and losing their lives — nevertheless names cancer as his number one cause.
"We need to raise as much money for cancer as we can," says Guthrie. "It seems to be the biggest thing out there right now.  I've got so many friends and family [affected by it]. It affects everybody. So as far as donations go, that's one cause I go for."
Van Buuren, who has topped DJ Magazine's Top 100 DJs fan poll a record five times and whose long-running radio show, A State of Trance, has more than 20 million weekly listeners in 52 countries, has supported many causes throughout his 19-year career, cancer and more.
Most prominently in 2010, he joined forces with fellow deejays Paul Oakenfold and Paul van Dyk, under the name DJ's United, to create the track "Remember Love," in honour of the victims trampled at Love Parade festival in Duisburg, Germany. Proceeds from the sale of the song went to the Association of Non-statutory Welfare to the festival.
"I've also actively supported the KiKa Foundation, which is a Dutch society for children that get cancer. In Holland, 400 children a year get diagnosed with cancer and my nephew was one of them about eight years ago," van Buuren tells Samaritanmag. "Fortunately he's fine right now, but at that point it was really shocking. I never expected that cancer would be that close in your family and when it actually happens to you — cause we were really close to them — it makes you think, you know?
STORY CONTINUES AFTER THE MUSIC VIDEO
"I want to say something about good causes," van Buuren adds. "I can tell you honestly with a hand on my heart that every day I get approached by a good cause, by somebody asking me to join foundation Against Brittle Bones, foundation for Red Cross, foundation for Green Peace, it goes on and on and on. It was really hurting because if you hear all these stories, it can get you really upset, you know? 
"On the other hand, I see a lot of celebrities just grabbing on to any possibility to get their name attached to these good causes, because it generates some publicity, not so much money but publicity. And the person who I am,  I want to be personally involved and personally believe in something before I say yes,  even though it may sound a little harsh at first.
"I don't mean it to be harsh at all," he explains, "because I'm an emotional person and I get easily upset if I hear all these bad stories [from] the World Wildlife foundation, the killing of the whales. I get so upset if I hear that, but I want to be genuine in everything that I do — about my music, about my radio show, about my performances and also following good causes.  
"I'd rather donate my money without anybody knowing it so that's what I've done a few times as well, without bragging about it because I feel like that some artists — I'm not naming anybody — just do it to get extra publicity. I hate that.
"In Holland there was a big discussion about it. Wherever there's money, there's crooks, right. So and there are lot of directors or owners of these good causes and then they turn around to grab a lot of the money."
Adds Guthrie, who is listening the whole time van Buuren is talking about his stance, "What about the one that was on CNN? Cancer [Fund] of America, $300 million raised and $16,000 of it given to cancer! [the report actually states nearly $100 million has been raised and less than 2 percent of that has gone to aid patients or families]. Read CNN's full report of America's 50 worst charities here.
Air Jordan 1 Mid "Chicago Black Toe" Black/Gym Red-White For Sale