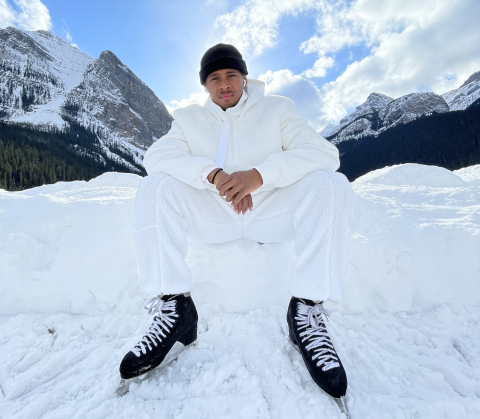 Former Canadian competitive figure skater Elladj Baldé has launched Skate Global Foundation (SGF), a not-for-profit organization that will build outdoor rinks in underserved communities across Canada as its first major initiative.
The first rink built under the new initiative, as part of an exclusive partnership with construction company EllisDon, is set to open on Dec. 17 in Calgary, Alta.'s Temple community.
"We are proud to partner with Elladj, the Skate Global Foundation, and the Temple Community in Calgary to rehabilitate a skating rink that will promote inclusion and bring the community, families, and friends together," EllisDon vice-president and Calgary area manager Sean Dekoning said in a media release.
SGF will also provide 100 pairs of skates for community members to use through a partnership with Jackson Ultima.
Rink-building is the first project that SGF has planned. The organization says on its website that each future project will unite "members of the communities at large to foster conversations and activate positive change within any and/or all pillars with which it was founded."
SGF was co-founded by choreographer Michelle Dawley and is built on these main pillars: equity, diversity, inclusion, mental health and climate change.
As a skater of Guinean descent, Baldé often felt like an outsider in his professional world and recalls being the only person of colour at the rink as a child. He's used his time since retirement to champion diversity in the sport and has amassed a celebrity following that includes Jennifer Garner, Ryan Reynolds, Will Smith, Jennifer Aniston, Octavia Spencer and Dan Levy.
"Throughout my career, the inequitable opportunities for BIPOC individuals in this sport has been glaringly obvious to me," Baldé said in a media release. "Something I've always wanted to be able to work toward is changing the culture of figure skating — so, to be able to bring this vision into reality is wonderful to experience!"