Out on the street, two police officers punching each other would likely get them taken into custody, but at the 2011 Police Memorial "Ringside For Kids," held April 28, at Le Treport Wedding and Convention Centre in Mississauga, Ontario, it was in the name of charity.
Presented by Canadian Emergency Services Boxing Association (CESBA), the fourth annual Police Memorial Boxing Event helped raise $7000 to send two kids on a weeklong visit to Camp Oochigeas, an Ontario camp for children battling cancer.  
Police officers, peace officers, firefighters and paramedics went toe to toe and trained boxers and Olympic hopefuls from CESBA had their own bouts. On occassion, a civilian even got in the ring with law enforcement.
"A lot of people enjoying seeing police officers box each other," CESBA president Barry "Bear" Dolan tells Samaritanmag.com.  "This provides an opportunity for people to come out and see [the city authorities] in a different light."
The proceeds were handed over to Camp Oochigeas in memory of fallen police and peace officers, such as Sgt. Ryan Russell, Cst. Artem "James" Ochakovsky, Cst. Vu Pham and Cst. Eric Czapnik.
Former boxer turned media personality Spider Jones emceed the evening; police widow Erin Ochakovsky and childhood cancer survivor Lauren Donnelly were guest speakers.
Ringside For Kids is also a precursor to the Ontario Police Memorial on May 8, which is held every year at Queen's Park in dedication to fallen police and peace officers.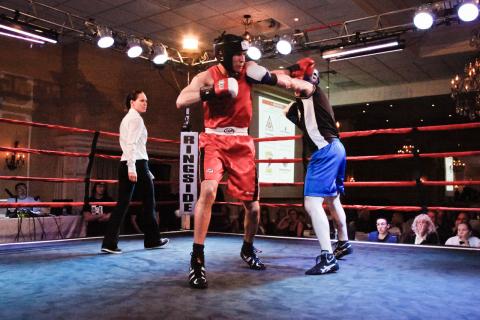 The CESBA Police Memorial Boxing Event came to fruition four springs ago when Dolan decided that he wanted to come up with an enjoyable way for the police and members of emergency services to connect with young people while supporting amateur sport. The association has since raised over $47,000 for Camp Oochigeas.
Dolan started as an amateur boxer as a youth growing up in Ottawa, after his father died. His mother decided to enroll him and his two brothers in a recreational boxing program.
"I had great role models and it really strengthened my character. [Amateur boxing] got me right into becoming a police cadet when I was 18," Dolan says.
Dolan is a big promoter for amateur sport, especially in working-class, high-needs communities. He says that having youths present in amateur boxing clubs is a tremendous opportunity for them, and defies the negative connotation automatically given to the high-octane sport.
"When you go to a boxing club, it's really a neutral territory. It's like a sanctuary. It's a great time to interact and build a rapport with [the young boxers] and also do some positive role modeling," Dolan says.
Several of the young fighters who have trained with CESBA and who sparred Thursday night are also Olympic prospects for Canada. The young boxers are not only mentored by the older police officers at clubs across the city, but reverse the trend and offer instruction to the men (and women) in uniform. They also routinely help out Dolan and his staff in their offices.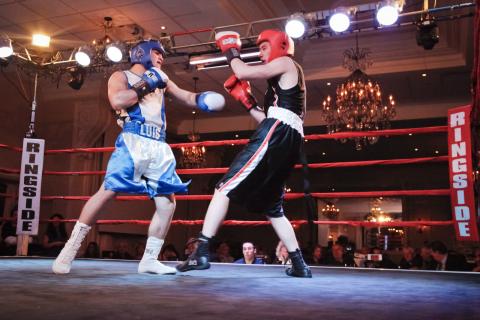 CESBA became a partner of Camp Oochigeas through Lauren Donnelly, a leukemia survivor and Oochigeas alum, who is the daughter of one of Dolan's friends.
"[Lauren] captures the essence of courage and determination," Dolan says. "She's had over 700 treatments and she's gone through it all. She's always a strong person and has supported other kids."
Camp Oochigeas is a Muskoka summer camp that also supplies year-round programs and services for young cancer patients and their families at their facility in downtown Toronto, as well as at SickKids Hospital. The kids who attend Oochigeas, which is set near Parry Sound on a private Muskoka lake, are either battling cancer or have a sibling who is fighting with the disease.
The volunteer-based organization relies on donations from other groups to run and send campers to their facilities.
The name Oochigeas, which means "little scarred one," comes from a native legend about a young girl who found the courage within her to overcome physical hardship despite being taunted by her village due to her burnt, ugly face.
CESBA is involved with charitable events year-round. Last fall, they donated to the Soldier On fund, an initiative launched to assist injured men and women serving in the Canadian Forces through exercise and sport.
nike roshe split blue hero size 8 women jeans