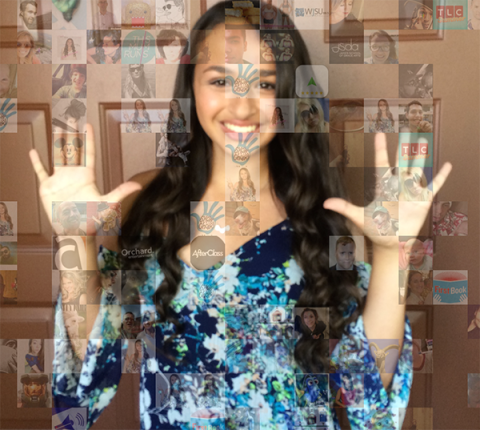 TLC is currently airing the premiere season of I Am Jazz, documenting the life of 14-year-old transgender girl Jazz Jennings and will donate $1 to her foundation TransKids Purple Rainbow Foundation for every photo of your jazz hands that is shared on your socials with the tag #JazzHands.
Transgender is the state of a person's self-identity not matching the sex he or she is assigned at birth. Gender dysphoria is the condition of feeling one's emotional and psychological identity as male or female to be opposite to one's biological sex.
The TV channel, owned by Discovering Communications, is only donating up to a maximum of $5000 (U.S.), it notes on its web site. Photos can be posted "all season long," it says, on Facebook, Twitter and Instagram. I Am Jazz season 1 is 11 episodes and began airing July 15.
Jazz co-founded  TransKids Purple Rainbow Foundation with her mother, Jeanette, in 2007, the year she was interviewed on 20/20 by Barbara Walters.  In 2011, the documentary, I Am Jazz: A Family in Transition, aired on the Oprah Winfrey Network. In 2013, she founded Purple Rainbow Tails, which makes rubber mermaid tails to raise money for transgender kids and co-wrote a children's book, also called I Am Jazz, with Jessica Herthel.
Below are the mission and goals of TransKids Purple Rainbow (TKPRF):
TKPRFis committed to the premise that Gender Dysphoria is something a child can't control and it is society that needs to change, not them. Families need to support their children and be encouraged to allow them to grow-up free of gender roles.
TKPRF is committed to enhancing the future lives of TransKids by educating schools, peers, places of worship, the medical community, government bodies, and society in general, in an effort to seek fair and equal treatment  and of all transyouth.
TKPRF is committed to funding research to study the current plight and challenges of the transyouth. There is an urgent need for curriculum changes in universities and medical school to meet the needs of all transgender individuals.
TKPRF is committed to supporting TransKids in their school systems so they may receive equal rights in order to ensure a safe and bully free education.
TKPRF continually uses media outlets to educate and enlighten society, and to challenge injustices due to discrimination.
TKPRF reaches out to the homeless youth and those that have nowhere else to turn. Funds for healthcare, and scholarships can be made available to transyouth in need.
TKPRF is aware that sex and gender are seen and used interchangeable in many arenas. These two concepts are very separate and need to be divided. It is time for the politicians to listen and for the medical professionals to speak up. It is time for the young voices of TransKids to be heard.
With your donations TKPRF has accomplished some of the following:
          *Sponsored Transkids gatherings and speciality programs
          *Provided Scholarships to Transfriendly camps 
          *Donated funds for research 
          *Provided financial assistance to other Transyouth Organizations
          *Provided financial support to homeless transgender youth and individual families in need of assistance. 
Mens Flynit Trainers