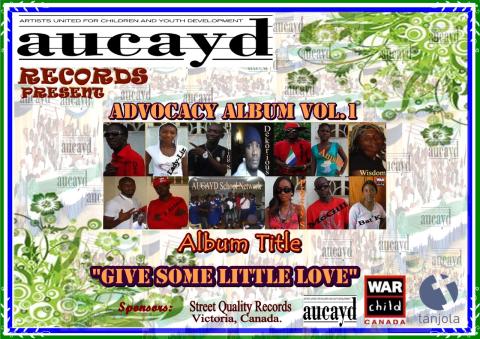 Artists United For Children and Youth Development (AUCAYD) in war-torn Sierra Leone has formed its own label, AUCAYD Records, and released its debut album, Give Some Little Love, available for purchase via MapleMusic, iTunes Canada, iTunes US and Amazon. 
From 1991 to 2002, a civil war in Sierra Leone left 50,000 people dead and displaced more than two million.
The 14-song album was made possible with the support of War Child Canada and Street Quality Entertainment, which for the past two years has provided AUCAYD with training in IT, music and video production, as well as on social issues such as human rights, hygiene, the environment and HIV/AIDS. 
According to the press release issued by War Child Canada, AUCAYD then passes on that training and knowledge to hundreds of school-age children and youth. "These students then train their peers, continually passing the training on, magnifying the impact of the program as it grows organically through the community," the release says.
The music and video training, as well as the recording studio set up by War Child and Street Quality Entertainment, has enabled AUCAYD to produce advocacy documentaries, short films and music.  AUCAYD is also running a weekly radio show with local students to discuss issues facing children and youth. 
War Child is a non-profit organization that works to help children whose lives have been torn apart by war and Street Quality Entertainment is a for-profit artist partnership music company with offices in Victoria, Toronto and Los Angeles.
War Child's Justine Turner, manager of international programs, visited with AUCAYD in Sierra Leone and issued this statement upon her return:
"The story of this passionate group of artists is truly inspiring, as they started out four years ago with little more than a vision to make a difference in their community. With the training and support from War Child, AUCAYD has now established their own organization, released their debut advocacy album, and are now being approached by local and international organizations who seek their expertise for music-driven educational programming for children and youth." 
Founded by Mohamed Samba Kamara, a.k.a. Luxsonjay, in Freetown, Sierra Leone, AUCAYD is a collective that provides a platform for young people to learn, share and interact with their peers through arts, culture and media technology. Its mission is to empower and promote the creative talents of young people in order to foster self-reliance, economic growth and sustainable peace and development.  
Many of the songs on Give Some Little Love are about such topics as early marriage, teenage pregnancy, violence against women and HIV/AIDS. Below is the track-listing.
1.   Give Some Little Love"Album Title"      
2.   Don't Treat Your Child like a Rebel
3.   Sweet Salone (AUCAYD-School Network)
4.   Salone Na Mi Land (Sierra Leone Is My Country)
5.   I'm In Love with You "Mama Salone"
6.   Join Hand en Bill Salone
7.   Kadiatu Make Ar Shame (Teenage Pregnancy)
8.   Street Child
9.   Let It Rain (Bonus)
10. Do-ra-mi -fa-so-la-ti-do (Early Marriage In Africa)
11. The Journey of Life (Hypocrite & Backbiter)
12. No Violence against Women
13. Use Condom
14. AUCAYD We Dae (AUCAYD at Work)
Nike Release Dates