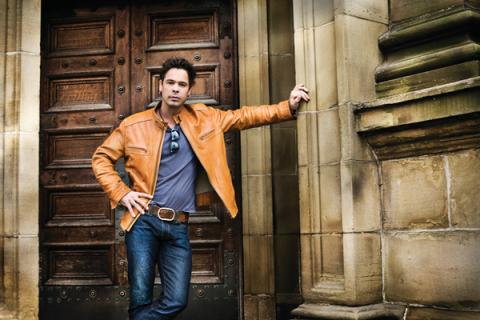 One of the best new songs not on Ian Thornley's latest album, Tiny Pictures, is a track he recorded to help raise awareness for the charity Spread The Net. "Provide," for which the Toronto rock singer-guitarist also made a video, directly addresses the issue of malaria-carrying mosquitoes in Africa and how a simple bed net can save lives. More than a million people die each year of the disease.
"So who's gonna keep your babies warm when you're in pain?" the lyric begins. "And who's gonna raise a canopy in case it rains? Let me provide. I want to provide for you…"  "It's the least I can do," he later sings.
The song was produced by Jeff Dalziel (Edwin, Rex Goudie) and the video directed by Guillermo Garcia. It can be viewed on YouTube, and  a google search returns links to it on Thornley's MySpace blog and The Belinda Stronach Foundation.
Spread The Net was started in late 2006 by businessperson and philanthropist Belinda Stronach and comedian Rick Mercer, in partnership with UNICEF Canada, to help eradicate malaria through the distribution of bed nets to children, specifically in Rwanda and Liberia.
According to www.spreadthenet.com, "A $10 donation to Spread The Net covers the purchase of a long-lasting, insecticide-treated bed net, the transportation and distribution of the net to families, community education about how to use the bed net properly, monitoring  and evaluation of bed net use after distribution, administrative costs and UNICEF's global work on malaria policy and programming."
Thornley decided to get involved with the charity following a lunch with Stronach and his friend, stylist/make-up artist Paul [Venoit], at which she asked him if he would be interested in writing a song for it.  "I was like, 'Okay, I already have an idea for it,' which was just 'provide,'" Thornley tells Samaritanmag. "There's a good jumping-off point for a song about that.
"She had talked to me about it before and after that lunch she gave me the whole press pack and I read up on it. It just struck me as a lot deeper than 'What a drag.' It was like, 'Holy sh*t, man, is this really what's going on? and how simple it would be to fix it.' So that's a pretty simple decision to get onboard with something like that."
Last April, Thornley performed a sold-out concert at Toronto's Phoenix Concert Theatre with the proceeds from VIP ticket sales going to Spread The Net.   Postings on Thornley's MySpace blog ask where "Provide" can be purchased and some people suggest the money goes to Spread The Net, but the song is not available.
"I actually don't know what's happened with that," Thornley admits. "There was a bunch of red tape that was happening with the publishing. I'm always amazed…well, no, I'm no longer surprised, but always amazed how feeble people can be in this industry. It's like, 'Come on, man, this is for charity.'
"So, yeah, I don't know what the latest is, but the initial intention was that they can put it on the Spread The Net site for whatever it would be and then all those proceeds would go towards getting the bed nets."
According to www.spreadthenet.org, "In Africa, malaria is the single leading cause of death for children under the age of five; it claims 1.3 million lives a year. One bed net can protect one or more children for up to five years. Spread the Net's objective is to raise 500,000 bed nets for Africa. Every 30 seconds a child dies of malaria. The disease kills 3,000 African children a day."
冬メンズコーデの参考にしたい「ジーンズ」のスナップを厳選 , メンズファッションメディア