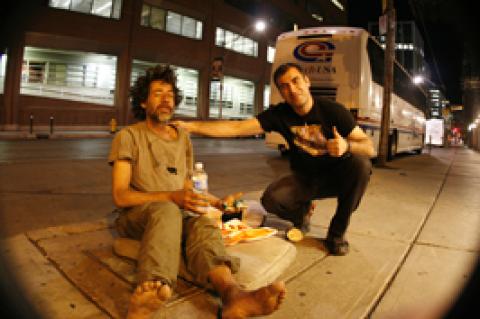 Abbas Jahangiri permits himself a wry smile as he recalls his startling switch from Toronto-based entrepreneur to philanthropist maintaining an almost inhuman schedule performing humanitarian works across the globe.
"I used to be a capitalist and thought charity was a piece of cake," he tells Samaritanmag. "I was wrong. Charity is complicated; it's very hard to work out. I still don't understand it after almost a decade [of doing it]. It requires so much discipline and sacrifice."
Mr. Abbas (his preferred designation) is uniquely suited to the task, given his own highly complex CV.  As owner/operator of the legendary El Mocambo nightclub and dance studio, he works from an office where rock bands performing early evening sound-checks rattle walls adorned by images of Mother Teresa, the late Catholic nun infamous for her service amongst the destitute in India and beyond.
Mother Teresa is Mr. Abbas's idol. Her humanitarian work was the key inspiration behind his Serving Charity organization [www.servingcharity.com] which he founded in 2003 and, among other things, serves sandwiches and hot drinks to the homeless and transient on Toronto's streets after dark.
"Mother Teresa had a huge impact on my life but the biggest one was when she passed away in 1997," he offers. "Her Missionaries of Charity is one of the biggest charitable organizations in the world and the most genuine. Its tenets are chastity, poverty and obedience and a vow to give 'wholehearted and free service to the poorest of the poor.' Mother Teresa understood what the poorest of the poor means. And it really just touched my heart."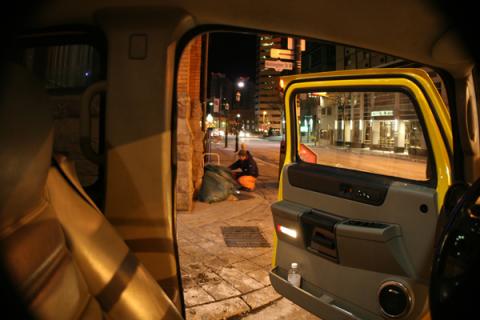 Yet for his esteem of the Catholic nun, Mr. Abbas — whose business card contains a prayer from St. Francis of Assisi — is himself a Muslim. He was also a former school principal, leader of engineers at Win.Telecommunications and a richly remunerated businessman (he purchased the El Mocambo for a reported $1 million in 2001) before finding the proverbial light or, in his words, "giving everything up for God and the poorest of the poor."
Today, he describes himself simply as a missionary while Serving Charity's Google search page blurb describes it as "a non profit organisation (sic) operating out of Toronto Canada. We help the poorest of the poor doing small deeds, with great love."
"It's true I am Muslin," says the soft-spoken, India-reared Mr. Abbas, "but I love all religions. I pray to Mary — in fact, the name of Mary is mentioned more in the Koran than in the Bible — but I have never thought of converting. We need to be accepting of all religions and if you just focus on one religion, it's a very dangerous thing."
The work he does nightly in Toronto — handing out sandwiches made by children, many of them special needs kids brought together under the aegis of his companion Children4Charity program and Kids with Special Needs program — does not particularly resemble the work Serving Charity performs in Haiti, Dominican Republic, Iran, Germany, Viet Nam and India where other chapters are located.
In Dominican Republic, for example — where Mr. Abbas has been three times since January's devastating earthquake in neighboring Haiti — his work serves children.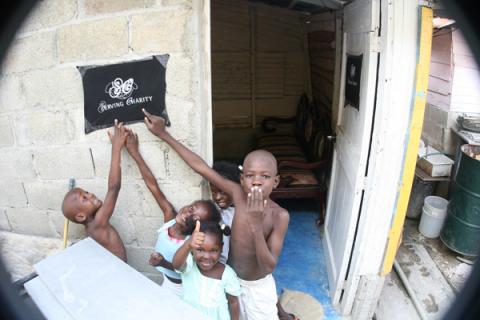 "I recently launched an orphanage in Dominican Republic for Haitian refugees," he says from his office at the El Mo. He has also been twice to Haiti since January. "We have three schools, about 150 children and my most recent trip there was the most powerful and emotional I have ever experienced. It just messes with your head and your heart."
While performing charitable work among the indigent in Haiti, India and Vietnam seems like a no-brainer, albeit a hugely ambitious one, the presence of Serving Charity in first-world nations with proper social infrastructures like Canada and Germany seems counter-intuitive. Not so, apparently.
"In some ways, it's harder to be poor in rich countries like Germany and Canada. It's like everybody else is okay except you, which has huge psychological repercussions," Mr. Abbas counters. "In countries like India and Africa, everybody is poor so everybody is together. It's a community. Similarly in Haiti, everybody is poor."
Though he's somewhat vague on the topic of funding — benefits are regular occurrences at the El Mo and roughly 150 local volunteers assist with food preparation, distribution and the like — Mr. Abbas is blunt on the role money plays in the overall scheme of charitable outreach.
"You need to focus on the charity and not on the funding," he says. "Staffing is very expensive and so often I just do things myself and we try to cut corners where we can. But in my view, if you get paid to do charity, you can't call it charity. You have to have love and passion and compassion to make it work.
"It's funny how it works out. In the soup kitchen here [which functions as such on days not given to sandwich-making for the nightly rounds] on Mondays, we have all Christian ladies. Wednesdays are mostly Jews and Fridays are mostly Hindus and Sikhs. It just happened that way and it's just beautiful. I see miracles happening all the time.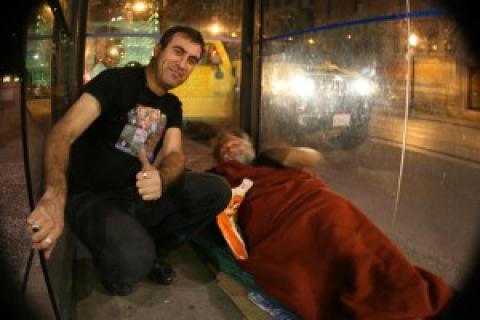 "For example, I am on my nighttime rounds and I need one more sandwich. I look in the bag and they are all gone, but one more person needs to be fed. On my way back to the Hummer [Mr. Abbas's vehicle used in delivery of the food and a familiar sight to nighthawks in the city core], I pray to Saint Anthony for one more sandwich and I look all the way under the blankets and there is one more sandwich. Things just happen in a beautiful way."
And would Mr. Abbas consider channeling his considerable business, networking and social skills into a life of politics in hopes of impacting policy and effecting greater change?
"No," he says. "There is poverty because of politics. I do like President Obama. But to me the best politician ever was Mother Teresa. She demanded the attention of presidents and first ladies from all over the planet. Her work lives on."
Air Jordan 1 Retro High OG 'Chicago' White and Black-Varsity Red For Sale