Members of Broken Social Scene, Great Big Sea and Bedouin Soundclash are among the musicians teaming up against members of the media for a charity soccer match at Toronto's BMO Field June 20 as part of the North By Northeast Music, Film and Interactive Festival. Dubbed "Put The Boot In," proceeds go to Right To Play, which uses sport and play programs to help children in 23 countries affected by war, poverty and disease.
NXNE's sister event (South By Southwest in Austin, Texas) has an annual Sunday softball game and the Juno Awards stage the Juno Cup hockey game every year, so NXNE managing director Andy McLean thought that his fest needed a sporting event, too. The first grudge match pitting The Rockers (musicians) against The World (media members and others) was held in 2007, and the outcomes have been two wins for The Rockers and one draw.
"The emergence of BMO Field and Toronto FC has shown there's huge soccer support in the city, and my previous employment as a soccer hooligan in Manchester brought everything together to head in this direction," says the British-born McLean, mostly joking about that last part. "Having the game at BMO Field adds a lot of cachet to it."
Players are asked to donate at least $100 to take part in the game, and they're given a URL to help them if they want to raise outside funds. They receive a kit from sporting goods manufacturer Umbro, one of the game's corporate sponsors, in return. Previous games have raised $2,000 to $3,000 each for Right To Play.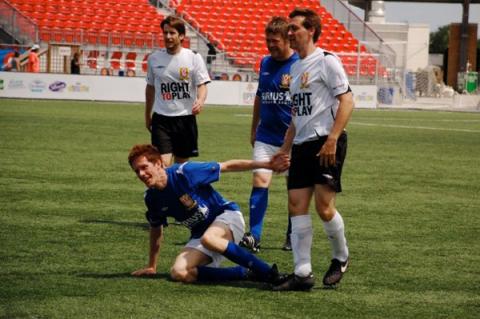 "Bringing in Right To Play as our charity of choice was a natural way to go because of the work that they do," says McLean. "We have a really great volunteer committee that spends a lot of time putting the game together, because there's a lot of organizational work."
NXNE will contribute $2,000 this year and McLean is hoping to boost the game's total donation to $6,000 through the effort of players and other corporate sponsors, including Sonicbids, Maple Leaf Sports & Entertainment Ltd., BMO Field and The Queen and Beaver Public House.
Spectators are invited to attend on a pay-what-you-can basis, while children get in free. The afternoon will also feature an on-site raffle with prizes donated by a variety of local businesses.
In honour of Father's Day, things will kick off with a one-hour scrimmage for children 12 and under. The field gates open at 11:30 a.m. and the kids game will begin at noon. Parents must RSVP to kidssoccer@nxne.com to have their youngsters participate.
While lineups for the 1 p.m. main game haven't yet been confirmed, The Rockers team will be coached by Bedouin Soundclash's Eon Sinclair and will include Broken Social Scene's Brendan Canning and Great Big Sea's Murray Foster.
"For a lot of the musicians who are in town, it's kind of a last minute thing," says McLean. "We're trying to get commitments as we go."
The World squad will feature Olympic rowing medalist Adam Van Koeverden, Entertainment Tonight Canada's Rick Campanelli and representatives from MuchMusic, The Edge 102.1, The Globe and Mail, National Post, TCHAD Magazine, Fashion and other outlets.
McLean is hoping to get members of Toronto FC, the city's Major League Soccer representative that uses BMO Field as its home stadium, to help coach both teams. The winner will walk away with the Queen and Beaver Cup.
Men Nike Footwear