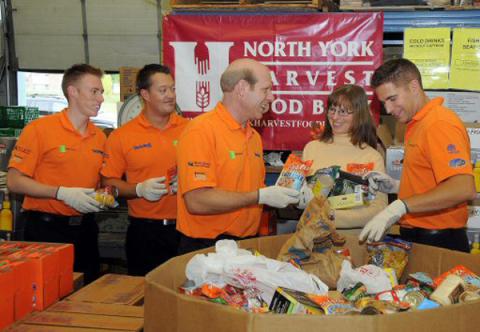 The professional curling season will draw to a close this week with the World Curling Tour's Players Championship, and folks who support the fight against hunger should be cheering the rink skipped by Edmonton's Kevin Martin.
The former world championship-winning team — which also includes John Morris, Marc Kennedy and Ben Hebert — have linked with Uncle Ben's in a program to boost the coffers of Food Banks Canada.
With every game that Martin's squad has won during the 2009/2010 season, beginning on Dec. 1, Uncle Ben's has donated $1,000 to the charity. The rice brand, which is owned by Mars Canada, pledged to give a minimum of $50,000 and a maximum of $100,000 to the cause.
The program has raised $65,000 to this point, but Martin and company can add to that total with a good run at the April 13 to 18 bonspiel in Dawson Creek, B.C.
Members of the public can also get involved and help the more than 700,000 Canadians who rely on food banks each month, about 40 percent of whom are children.
Uncle Ben's will donate a dollar to Food Banks Canada, up to a maximum of $10,000, for each person who becomes a fan on its Facebook page http://www.facebook.com/UncleBensCanada
Food Banks Canada is a national charitable organization that helps support food banks by acquiring and sharing both food and funds, conducting research and educating Canadians on the issue of hunger in Canada.
You can watch a commercial that's been running on television to promote the Uncle Ben's/Team Martin program here: www.facebook.com/video/video.php?v=220580342657
newest nike shoes for girl CD0463-401 – Buy Best Price Adidas&Nike Sport Sneakers