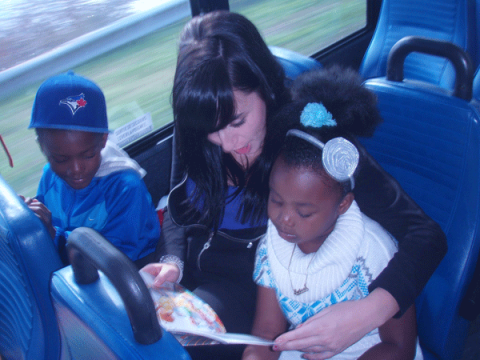 Dialogue about incarceration usually focuses on the inmate. In many scenarios, the ones behind bars even have access to support services, but it's the children of inmates frequently facing economic hardship, social stigma, isolation and feelings of abandonment.
That's a sad reality Jessica Reid hopes to counter if not eradicate. Along with her father Derek, Reid is the founder of Toronto-based F.E.A.T. (an acronym for Fostering Empowering Advocating Together) which supports children of incarcerated parents through myriad programs, not least a free bus service allowing kids to visit their inmate parents serving sentences at nine federally run penitentiaries in Southern Ontario.
Those weekend visits don't just keep fragile filial relationships alive; they also offer inmates something to strive for on release. Perhaps even more significantly, F.E.A.T. offers at-risk children networking, social support, esteem-building programs and opportunities that can help end the "revolving door of incarceration," in Reid's words, that sees so many kids of inmates grow up to be inmates themselves.
Indeed, according to studies cited by Reid — who has a degree in psychology and has worked extensively in early childhood education — children of incarcerated parents are four times more likely to be in conflict with the law than their counterparts. That points to a troubling future given that, by F.E.A.T.'s reckoning, some 5,000 children are impacted by parental imprisonment in the Greater Toronto Area (GTA) alone. 
"There is such a huge need to support these families. If we don't, this cycle will continue," Reid tells Samaritanmag. "It's devastating when families become involved in the correctional system and it seems to be a revolving door. If we don't support these children at an early age, they are at elevated risk for adverse outcomes."
As Reid explains, it was while working as a kindergarten teacher in Leduc, Alberta a few years back that the idea for F.E.A.T. first came together.
"Three of my kids, aged around four or five, had parents in custody," she says. "That's when I saw the devastation they faced daily, spending time away from the man they viewed as their hero, the one they played ball with and who put food on their table. It was obvious these kids needed extra support. But when I went looking for services specifically for these kids, there weren't any."
Coincidentally, Reid — who had grown up not knowing her father Derek — finally reconnected with him around the same time. Though the Reids' separation wasn't due to incarceration, Jessica Reid knew first-hand the pain of being separated from a parent.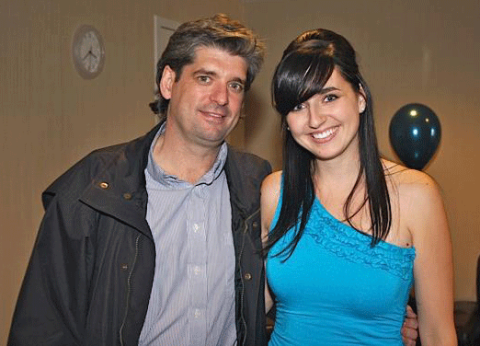 "As it happened, Derek and I had just connected and we wanted to do something together. We also knew these at-risk kids were underserved and there were similarities to our situation. So launching the organization made sense."
F.E.A.T. was born in August 2011.
The work is ongoing. Every weekend, Jessica and Derek Reid — alongside an average of seven to 10 children and their families —ride a F.E.A.T. bus between Toronto and penitentiaries in Kingston, Gravenhurst and Campbellford, Ontario, as part of the organization's cornerstone family visitation program without which visits between GTA kids and their inmate parents likely would not happen.
"Visitation is a key component of maintaining the parent-child bond," Jessica Reid says. "Writing letters is nice, but being together and receiving hugs is very powerful. We are the only service offering this transportation on a weekly basis."
The service is offered free to youth under age 18. Those 18 and over are charged a nominal $30 fee to Campbellford and Gravenhurst and $35 to Kingston which helps cover gas. Reid notes that individuals trying to reach these places independently by bus and taxi (the latter a must given the institutions' remote locations) would likely spend upwards of $100.
Though organizations similar to F.E.A.T. exist stateside, Reid stresses there is a dearth in Canada, which makes her work that much more urgent.
"Plus — and this is where our program is more holistic in nature — we also provide support on the bus.  For first-time families, visiting these institutions can be daunting. We offer support and run through procedure so they know what to expect and it's less stressful.
"They also have an opportunity to talk about what they're going through with others going through the same thing, which is often difficult because of the stigma associated with incarceration," she says. "On the bus we provide kids with games and activities which help foster social skills and academic support. We offer muffins and drinks.
"On the way home we offer comfort, help the kids create pictures or letters for dad which we send along and let them talk about their visit. A lot of our kids feel like they are the only ones going through this and the bus allows them to see others going through it. So there is bonding going on, peer support but we are also there to provide individualized support so we can optimize the impact of the visit."
Other F.E.A.T. programs include free after-school programming twice weekly in the Jane and Finch community. According to F.E.A.T.'s website, "Our program works to empower youth to embrace safe and healthy choices by teaching life skills, fostering healthy coping and developing a positive support network."
There is also a summer peer group called S.T.E.P (Striving to Empower Peers) serving youth ages 8-12 who have a family member in prison. "The family visitation bus service specifically supports children who have had a positive relationship with their parents prior to incarceration," Reid says. "The other programs help support children whose parents maybe haven't been active in their life."
The non-profit F.E.A.T. gathers funding from multiple sources, including private donation. "We sell pins at a motorcycle rally in Port Dover," Reid says. "And starting June 7, I will be walking from Toronto to Kingston and landing at Collins Bay Penitentiary on Father's Day. It's a seven-day walk intended to raise awareness and funds towards purchasing a new bus, which would cost about $80,000 but my goal is to raise $20,000 towards it.
"We've had a gala in the past and we hope to have another event in the fall. So that funds our family visitation program. We do have project-based ministry funding for our peer mentorship projects and after-school programs.
"We've also been funded by corporations such as Telus, CIBC, National Bank," she adds. "They understand that children of incarcerated parents are at-risk. Providing them with extracurricular programming, helping them with homework and teaching healthy coping strategies is going to help them."
Word of mouth has been a powerful tool in spreading the word about F.E.A.T. but Reid confirms that referrals often come through social workers or teachers.
"We also have great relationships with the correctional facilities; inmate committees will help to raise awareness of the program among other inmates. For the guys inside, maintaining family contact and support is huge when they talk about reintegrating into society.
"This is my life, my heart and soul and I work 80 hours a week on this," Reid says when asked if she also juggles a day job. The answer, not surprisingly, is no.
"I started this at age 24 and now at age 27 I can't imagine doing anything else," she says. "I love these kids as if they were my own."
Frame Skate x Nike SB Dunk Low "Habibi" CT2550-600 To Buy