Children's Wish Foundation of Canada can't grant trips to the moon, but some 16,000 other wishes have been fulfilled in its 25-plus-year history. Its mandate is simple — kids aged three to 17 living in Canada who have been diagnosed with a life-threatening illness are granted a special wish as a means of lifting their spirits during painful symptoms and medical treatments.
And while there is no evidence to suggest that wishes granted impact children's physical health, the mental health benefits are abundant and obvious, according to communications director Paul St. Germain.  "We have had countless testimonials about how much impact these wishes have had on the children," he tells Samaritanmag from the organization's headquarters in Pickering, ON.
Children's Wish has a local chapter in every province and territory and is the largest and only all Canadian wish-granting organization in the country.
Wishes run the gamut from travel to meeting celebrities, but are sometimes much more complex. One child, for example, wished that his Edmonton-based grandparents lived closer to his home in Atlantic Canada. Children's Wish moved them.
Whatever the wish, Children's Wish picks up the tab. There is no waiting list and in emergency situations, wishes can be fulfilled in a matter of days. And while some wishes cannot be granted precisely as requested (trips to the moon remain a hurdle), Children's Wish has an unimpeachable track record.
Since its inception in 1984, no child referred for a wish (by doctors, neighbours, family members, teachers and the like) has ever been turned down. Some 16,000 wishes have been granted in total. For the most recent fiscal year ending March 2011, in excess of 1,000 wishes were granted at an average cost of $10,000 each — a record high number of wishes for any year in the organization's history.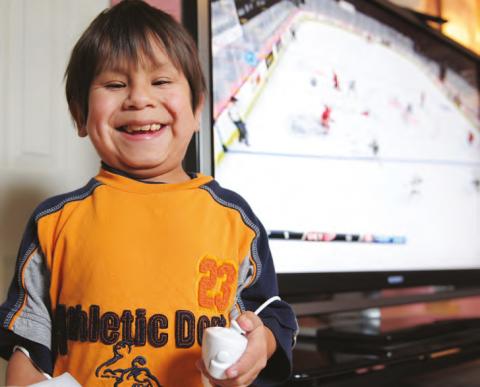 Children's Wish Foundation doesn't specifically track which recipient children survive and which succumb, but the illnesses most often suffered by their benefactors whisper the outcome: leukemia, Cystic Fibrosis and brain tumors.
"Anecdotally, we know that children's outlooks really soar when they know they're going to go to Disneyland or meet the hockey player that's their hero. It gives them something besides the illness to focus on," says St. Germain.
"And there have been studies about how having a positive outlook can have a beneficial impact on the effectiveness of treatments. It's probably not a huge leap to suggest that the anticipation of a wish would help put a child into a more positive mindset.
"If there's one quality that all these children seem to share, it's probably their courage. The strength and resilience these kids have as they face these challenges is just incredible. I've actually heard parents say they've had to rely on their child's strength just to get through."
Like many charitable organizations, Children's Wish began as an altruistic response to a sad situation. 
"In the early 80s, I saw something on the news about a terminally ill little boy in the United States," founder Laura Cole said in a Children's Wish Foundation newsletter.  "Some people had heard about the boy and tried to make his wish come true. In the news story, a fireman went up a ladder to his hospital room. It was wonderful. I thought to myself, 'This is something so simple that anyone can do to help a sick child.' As a mother of two, I was not afraid of hard work. I took some time, did my research and I did eventually get together with several of the people who were from Ontario. We decided to create our own, all-Canadian organization."
"I believe the first official wish was to meet Mr. T," adds St. Germaine.
Since then, the wish-granting work has continued apace with private donors and myriad national and regional corporate sponsors — which include such diverse companies as Air Transat, Tim Horton's, North American Van Lines and Ernst & Young LLP —  helping to fulfill literally hundreds of wishes from children across Canada every year.
"The demand for wishes is increasing," St. Germain allows, "which puts greater pressure on our fundraising team. The need to keep donations coming in just keeps going up and that's not always easy in these economic times.
"Plus, it's always a challenge to identify potential donors and to create a connection between who we are and what we do so that donors can feel the impact of their contributions. That's always top of mind for us and as you can see from our website, telling the stories of the children through video testimonials really helps us to drive that point home. We rely solely on the generosity of donors; we are not government funded.
"Our greatest wish would be that we wouldn't need to exist but it's a reality," St. Germain adds. "And if granting a wish can help a child get through the treatments and the really tough stuff they and their families have to live through, then being able to help that many families is a great thing. And we couldn't be happier about that part of it."