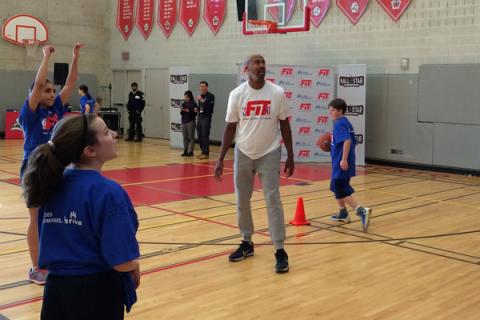 Get off their cell phones. That is the biggest obstacle believes former NBA player Bruce Bowen between kids and a healthy lifestyle.
When Bowen came to Toronto recently as part of the NBA All-Star Game festivities, his official duties involved hosting and participating in an NBA Fit event to encourage childhood health and sports participation.
That event, which Bowen appeared at along with former WNBA player Ruth Riley, is entirely consistent with the nine-time NBA All Defensive Team player who has put youth health and well-being at the top of the agenda for a number of charitable endeavors he has participated in.
Teaming with NBA Fit, which uses current and former NBA and WNBA players to inform, educate and engage children and families in healthy living practices, is big for Bowen.
"Some children they don't have a choice," Bowen told Samaritanmag about the healthy lifestyle challenges children face. "Maybe their parents weren't educated in that 'maybe I shouldn't allow my son to drink soda with his breakfast.' Now you get kids changing their diets and at the same time changing whole concepts in the household."
Bowen believes in being a good example, which is why he likes to get physically involved, participating with children.
"I think one good way to get kids involved is to get out there with them," Bowen says. "Show them how important it is to live a healthier lifestyle, exercise and the way that we put things in our body that we're able to use to get through the day - fruits and veggies, drink a lot of water, all those wonderful things.
"Getting kids off their cell phones today, that's the biggest issue. If we can get them doing something that's extracurricular and movement of the body I think that helps in the process of them moving forward."
Bowen isn't just preaching good health under the NBA Fit banner either. For years the veteran of five separate NBA teams has been making grade school appearances in the San Antonio, Texas area under the banner Get Fit with Bruce and Buddy. These appearances are also about making sound choices when it comes to nutrition and fitness.
"It's starting with activities in an exercising manner," says Bowen. "It's not about 'Oh, you have to do this for two hours a day.' It's about 'Let's get started; let's develop good habits.  Let's walk. Let's walk to or from school.' Or, amongst your friends, 'Let's get outside and kick a soccer ball.'
"When you get kids to understanding those types of things, that's part of the education and you can start moving them in the direction to say, 'OK, we're doing things the right way.' And then you gradually increase. And make it more where now people are doing more advanced things because of the education they've received."
While he can now be found doing analysis for ESPN, Bowen's greatest sports successes game while playing for the San Antonio Spurs and winning NBA championships there in 2003, 2005 and 2007. Bowen has contributed to the San Antonio community in a number of non-basketball ways over the years.
In a cross-sport team-up with the American Hockey League team the San Antonio Rampage, Bowen has acted as a "testimonial speaker" on behalf of the local Children's Hunger Fund chapter. Providing nourishing food for hungry kids across America and around the world, Children's Hunger Fund distributes Food Paks and other aid through local churches to suffering children and families in their communities.
He also helps out with the San Antonio Alzheimer's Association, a chapter of the Alzheimer's Association, which works on a global, national and local level to enhance care and support for all those affected by Alzheimer's and other dementias.
On top of that, Bowen has also helped out with the Elf Louise program, whose goal is "bringing Christmas to children in need" and has provided presents and holiday cheer to underprivileged kids in San Antonio since 1969.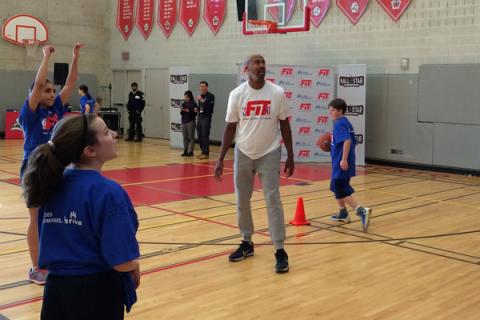 Understandably, though, it's in sports and athletic-related areas where Bowen's work is most focused. To that end, he's set up the Bruce Bowen Foundation, an organization set up to provide scholarships and bursaries, as well as running summer camps for kids.
"I hold a camp every summer back in Fresno, California where I'm from," says Bowen. "We do a free camp for the inner city kids where I grew up and it's to teach them life lessons through sports. We all have to understand there are boundaries in the game of basketball - there are boundaries, there are violations. The same thing in life and you have to understand that.
"You have to live your life in a certain way in order to make sure you succeed. But those lines of discipline are the lines that I always talk about because it's so essential. Because if you don't teach kids the essentials of discipline in life right now they can get lost as they get older. Then they find that discipline in other areas that aren't necessarily the best places."
Bowen, a charismatic character, also isn't afraid of a little trickery to do good for kids.
"That is the plan. We fool them," he says. "And the next thing you know they're doing things in a way where they didn't think they could do it before. And now we're like, 'wow, look at what you're doing' and they're like, 'wow, I feel so much better about myself.' And it all started from this one thing."
THE SNEAKER BULLETIN