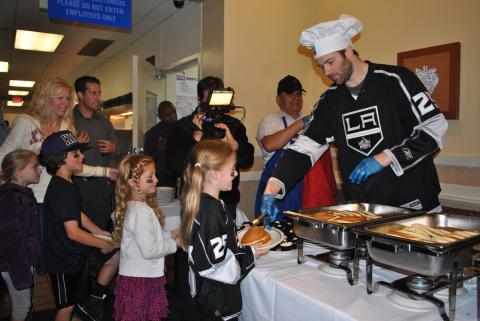 Talk about turning a negative into a positive. Los Angeles Kings forward Dustin Penner is hosting a 'Pancakes with Penner' fundraiser on Feb. 13, with all proceeds going to the Kings Care Foundation.
The charity event comes on the heels of Penner's well publicized 'Pancakegate' incident, when the native of Winkler, Man., suffered back spasms as he sat down to a pancake breakfast prepared for his wife in early January. The left winger was forced to sit out one game recovering from the injury, which provided pancake punch lines for media and fans from coast to coast.
Penner didn't help his cause when he wrote a tongue-in-cheek open letter addressing the incident on January 11 that was then posted on a fan's blog.
"First and foremost, I think we can agree that having delicious pancakes that your wife made for breakfast, for a 1pm game, is not out of the norm," wrote Penner. "Secondly, 'SOBS' [Sudden Onset Back Spasms] can occur at any moment, doing just about anything you can think of, and is a very serious issue.
"Those who have experienced 'SOBS,' know it is no laughing matter. I'm a little hurt, to tell you the truth, that the plight of my people isn't being taken seriously."
'Pancakes with Penner' will have 75 fans and their guests join Penner for a buffet breakfast at an IHOP restaurant in Los Angeles. Fans can purchase different levels of opportunity prize packs at lakings.com/pancakes. A $10 package includes a Dustin Penner signed player card and one chance to win tickets to the pancake breakfast; a $25 package includes a signed player card, two pairs of LA Kings eye black and three chances to win tickets to the pancake breakfast for $25; and a $50 package includes a signed player card, two pairs of LA Kings eye black, a Hockey Fights Cancer LA Kings hockey glove key chain and seven chances to win tickets to the pancake breakfast.
Money raised will go to the Kings Care Foundation, which is dedicated to providing educational and recreational opportunities for youth throughout Greater Los Angeles. Since its inception in 1996, the Kings Care Foundation has donated more than $5 million (U.S.) in monetary and in-kind support to the local community, including a $250,000 donation to develop a state-of-the-art Los Angeles Children's Museum and a pledge of $250,000 to the Neil Bogart Memorial Fund, a non-profit organization that funds research at Children's Hospital Los Angeles.
"We are happy to support Dustin Penner and the Kings Care Foundation with 'Pancakes for Penner,"' said IHOP's senior vice president Natalia Franco, in a prepared statement. "The Kings are incredibly involved in the community and their efforts help a lot of meaningful organizations in the Los Angeles area.
"All of us at IHOP are also devoted to giving back to the communities in which we operate."
Nike Air Max 200