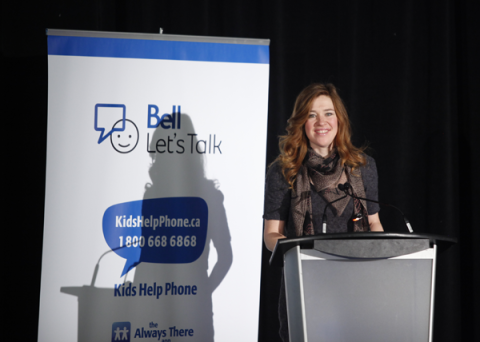 Today is Bell Canada's Let's Talk Day, which asks Canadians to simply talk about mental heath issues in order to dispel the shame and embarrassment some might feel about needing and asking for support and professional help. But the communications giant is also asking you to communicate in a giant way and will pay it forward if you do.
Bell will donate five cents to mental health initiatives for every long distance call and text its customers make today, and the same amount for anyone who shares today's specific Bell Let's Talk Day Facebook image and retweet #BellLetsTalk.
"The five cents is an easy way for Canadian to be involved. It's Bell that's doing the donating; we're not asking Canadians to donate," Mary Deacon, chair of the Bell Let's Talk mental health initiative, tells Samaritanmag.
In Canada, one in five people are affected by mental illness, according to the Canadian Mental Health Association.
Vince Degiorgio, a chart-topping Canadian songwriter and music publisher who has worked with 'N Sync and award-winning Dutch singer Caro Emerald, is particularly moved by the campaign. He recently lost someone to suicide.
"In the last conversation I had with my very good friend, I made sure to let him know that all the doors, our hearts and our home were open to him. But I had no idea how deep his problem was or may have been. This kind of pain is a secret. And suddenly he was gone," he tells Samaritanmag.
"From that day, I don't care if I annoy someone by asking how they are doing or calling twice. I have that fear that if I didn't try, I'll never know if I could have helped. In my friend's memory, I will always call twice. People text too much, email too much and they are on social media a lot because it's convenient. But I love the phone. I love to talk. And the first thing I ask everyone is 'How are you?' 'How's life?' — anything that is a distraction from why we're speaking, just to let them know we are human beings first.
"What happened has changed me forever. I guess that's why Let's Talk means something more this year."
In 2010, Bell made a strong commitment to mental health charities by allocating $50 million over the following five years. The Bell Let's Talk mental health initiative is based on four action pillars: anti-stigma, care and access, research, and workplace best practices. Last year alone, the Bell Let's Talk Community Fund invested in 60 local mental health organizations across Canada, according to its press material. 2012's Let's Talk Day raised more than $3.9 million from 8 million Canadians engaging in more than 78 million text messages and long distance calls.
Mental health is a sweeping umbrella term that is used a lot, but some people may not realize that it encompasses everything from anxiety and depression to schizophrenia, obsessive-compulsive disorder, anorexia, kleptomania and many more.
"It is that broad," confirms Deacon. "Really, our approach with the advertising campaign and Bell Let's Talk Day is to promote conversation about all things related to mental health. It's really about raising awareness and reducing stigma so that more people feel comfortable talking about this part of health and that more people feel comfortable reaching out and getting help if they need.
"So it's not about one mental illness versus another or one being more important than the other; it's about the 21st century. Let's talk about this. These are illnesses. Let's create a climate where people feel like they can talk about it. Fifty years ago, no body talked about cancer; it was the C word. And AIDS, there was a time when nobody talked about AIDS.
"So let's deal with the stigma, make [mental health] something that's acceptable and easy for people to talk about. That's the first step."
In addition to the advertising campaign for Bell Let's Talk Day, and six-time Olympic medalist Clara Hughes' on-going involvement as its national spokesperson, Bell brought on three additional spokespeople for 2013: CTV broadcast journalist Seamus O'Regan, composer Stefie Shock and actor-comedian Michel Mpambara.
"That really helps to spread the word about the day," says Deacon.
"I was really taken aback last year seeing someone like Clara Hughes come forward on TV," says Degiorgio of the effectiveness of Bell enlisting public figures for the mental health campaign. "She's a national hero to me more than for what she's done in the Olympics. The Olympics of life are a way bigger platform. There are no medals for winning, but there should be.
"When she spoke up, and [Off The Record host] Michael Landsberg spoke, it showed a side of their humanity and not their personas. We get lost in our sports without ever knowing who the people are. Athletes who are unafraid are considered warriors. But anyone who shares their story, to me, is a hero."
On Bell Let's Talk Day, Deacon says, they have experts in numerous areas of mental health doing interviews all across the country. One key area of discussion is the voluntary standard on psychological health and safety in the workplace guidelines that were released in January by the Mental Health Commission of Canada, the Canadian Standards Association and Quebec's standards development body (BNQ).
"We wanted to take the opportunity to highlight mental health in the workplace because the majority of adult Canadians spend the majority of waking hours at work," says Deacon. 
"In the 40s and 50s, we brought in, as a society, this notion of physical health and safety with occupational health and safety standards; it's a similar thing where the goal is raise awareness, reduce stigma and then to put in place a management system and a framework that will better ensure psychological health and safety in the workplace.
"So it is a part this year because of the release of the standard that we want to promote and we at Bell, as a large employer, are working towards the adopting of that."
For more information, Bell is also encouraging people to go to Let's Talk Day web site and download part or all of the 2013 toolkit by clicking here. You can also make a request to have a printed toolkit sent to you by completing the form at the bottom of the web page.
"There's a lot of information on the web site and the toolkit is to really give Canadians some tools and ideas on ways that they can start their own conversation about mental health, whether it's in their community or in their school or in their workplace."
adidas NMD Human Race