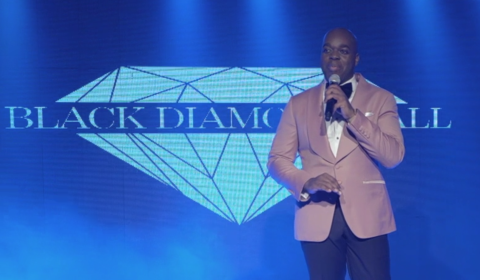 The 6th Annual Black Diamond Ball raised money last weekend for The Black Youth Design Initiative [BYDI] but its initiatives carry on year-round.  Donations go toward #Safespace 365 and the Ontario College of Art & Design University's Black Youth Design Initiative, and presenter Artxperiential has also launched an ongoing marketplace for Black businesses and archived workshops that cover everything from youth leadership and business plans to the music industry.
Aired online and for the first time on television, Citytv, the annual event takes place on the last Saturday of Black History Month, to celebrate Black culture, showcase artists, and support Black youth and Black-owned businesses across Canada. There is also an awards component. This year's Lifetime Achievement went to Itah Sadu of A Different Booklist; Inspirational Youth to 23-year-old artist Christina Smith; Community Influencer to Ontario Black History Society vice-president Mawuli Chai; and Athletic Excellence to Olympic gold medalist sprinter Sam Effah.
ArtXperiential Projects is "a not-for-profit organization that is passionately creating innovative solutions and outlets to overcome the obstacles facing youth, particularly those in the arts, LGBTQ, minority, indigenous and at-risk communities."  SafeSpace 365 helps at-risk and bullied youth by connecting them with organizations, partners, and mentors, while OCAD's Black Youth Design Initiative is a "five-pillar intergenerational platform whose aim is to build design capacity to Imagine, Make, and Connect with Black communities as part of the fight against anti-Black racism."
Samaritan spoke to ArtXperienial's director of operations Shawn Cuffie about the Ball and initiatives 364 other days of the year.
Let's go back five years. What made you start the Black Diamond Ball?
That's the number one question I get.  I've been in the event world since I was 16 and a lot of events you hardly see any Black people in the room. It didn't really hit me that much, but what I to realized is that the events that we were having didn't seem as big and robust and as popular and well attended so I said, 'I'm going to do this event and I'm going to bring everybody together.'  I've been picturing it since I was like 17, 18 years old. I'm going to bring all sorts of community members together, anyone who wants to come, allies and creatives, where we can see Black people doing an amazing amount of work, supporting each other. We can network. We can celebrate each other, honour each other, all in the same place. That's how it started. So someone gave me a chance to realize the dream.
Who was that someone?
TD Bank.
How does The Ball support Black youth?
The Safe Space project is a brand new project that ArtXperiential is starting up. We're looking for other organizations to partner with, but right now we're working with some youth to develop some stuff. For example, this year we had four or five youth helping us with the Ball. They shot some of the background scenes of the Ball. They helped wrangle and deal with all the talent. They also did marketing. So if you look under Black Diamond TO Instagram, a lot of the small businesses have been profiled by the youth. We did the same thing with video. We did the same thing with the Safe Space 365 photo campaign. They're all paid to do this work.
You also had workshops, which are quite varied, hosted by singer Jully Black, and Sam Effah.
Our marketplace and our workshop series were done in conjunction with RBC and that was new to our programming.
Do you think that, if COVID hadn't happened those opportunities wouldn't have happened either or do you think it's because of the escalation of the Black Lives Matter movement?
I honestly don't believe that it would've happened. We were wanting to do something online, but the challenge that we were having was we weren't familiar with the platforms and they were difficult to learn and get used to. The platform we're using is called Hopin and every workshop is a whole event. It's like Zoom mixed with Eventbrite and PowerPoint. It's very interactive. We wouldn't have had time to design the Ball [live] and do the workshop. It would have been too much. Because of COVID, we were able to do that.  I feel because of Black Lives Matter and all the horrible things that have been happening in the community, and COVID, we were able to garner some support from others who we may not have had a chance to engage with to do these things.  I really feel bad because of what's happening right now in society, and with the pandemic as well, but we were forced to do something we always wanted to do and do it quickly.
You had this dream of doing the Ball and having this non-profit. What was the response like from potential sponsors five years ago compared to now?   [This year's sponsors include Rogers Communications, RBC Royal Bank, Cloré Beauty, Puma, MHC, TD Bank, M5V Inc., FACTOR and Hounds Vodka].
Five years ago when we started, we had much less sponsors. The first couple of years didn't really have a lot of sponsors because they didn't know what we were about. And we didn't have the youth program. Originally when I designed the event, it was to get community together for networking, to honour the community and celebrate the community as well. People were like, 'We're not going to support a party.' [But] it's more than a party; it's a celebration, where we honour people because we give away trophies for youth ‑ inspirational youth, youth influencers — and lifetime achievement awards. I put in the youth component because we had some youth helping us.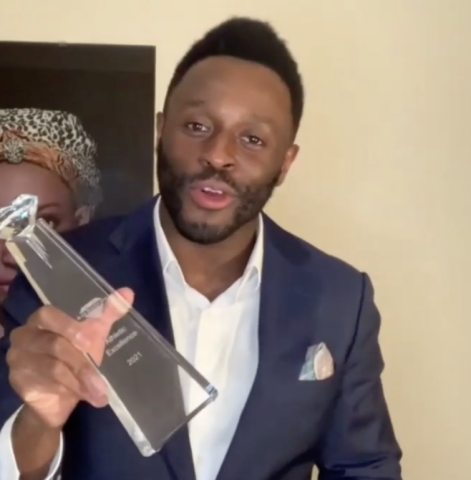 How do you determine the honorees of those awards?
We ask community members to recommend people to us. I ask questions throughout the year and then I narrow it down.
The marketplace seems pretty easy to get listed: just fill in and submit a form, then you verify and ask them for a photo and a blurb?
Yeah, absolutely. We reached out to many small businesses. We're trying to put them together all in an online shopping place. We teamed up with Pitchblac at RBC to get this started and to get a lot of more businesses on their platforms.
But the other thing that we need to do, I find, is really try and push the narrative of shopping Black and supporting these companies. I find that even though we get these people going on these online platforms, we still don't log in; we still don't go shopping; we're still on Amazon. I bought thousands of dollars' worth of products from Black businesses for the Black Diamond Ball [The BDB Lux VIP Experience Box for donors of  $175], but we need more people to do that. We're trying to get the word out as much as possible. I find it a little bit difficult, but throughout the year we need to just keep on pushing and not just stopping at the end of February.
Do you see a time when there isn't a need for Black History Month?
If it does happen, it's not going to be anytime soon. The narrative here is to make sure that people understand that Black people went through some traumatic times and we don't ever want to experience that again.  We're always going to celebrate and honour them this particular month for all the hundreds of years of slavery and trauma that they've gone through. So it's not going to be anytime soon, at least not in my lifetime, where this will stop.  Hopefully, there is no need for it because we've become a normal part of the normal society where there's no aggression, there's no judgment; there's nothing based on our skin colour. Hopefully, it's just strictly based on our character, just like everybody else and we just move forward, but I cannot see that happening anytime soon.
What else will you be doing for the next 11 months?
The 365 program is for anyone. For Black History Month, it's focused on the Black youth, but it's for anyone.  We did have some youth go round and shoot these TV shows. We have four or five shows shot. They look really good. We interviewed different companies and they shot it themselves, edited themselves,  directed themselves. So  that's what we do for the rest of the year. So we will be continuing that.  They also designed the marketing campaigns throughout the year. We're aiming to launch in the spring.