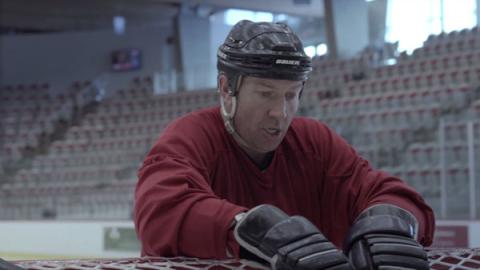 Sheldon Kennedy's story is well-known, if only nervously whispered about in the ice rinks and community centres across Canada.
A star junior hockey player for the Swift Current Broncos in the Western Hockey League in the mid-1980s, the flashy forward was destined for the pros. He made good on that in 1989 and went on to play 310 games over parts of eight seasons with the Detroit Red Wings, Calgary Flames and Boston Bruins. But there was always a troubled side to Kennedy.
In 1996 Kennedy revealed why. He explained he had been sexually abused by his former junior coach and mentor Graham James, a shocking and unheard of accusation for the hockey world. It eventually resulted in James pleading guilty to 350 sexual assaults against Kennedy and another unnamed player and James being sentenced to three-and-a-half-years in jail.
An unsettled Canada had its justice and in 1998 Kennedy rollerbladed across the country on a cathartic campaign to raise funds and awareness for sexual abuse victims. He was a hero. But demons still haunted him. In and out of rehab, addicted to booze and drugs, and crippled by suicidal thoughts, there has been no storybook salvation tale for Kennedy. Instead it has been a slow, agonizing incremental march towards sobriety and stability for Kennedy.
If the uncomfortably raw and insightful new documentary Swift Current is any indication, it's a journey Kennedy's still on.
Directed by Joshua Rofé and making its world premiere at the Rendezvous with Madness film festival in Toronto on Nov. 6, Swift Current makes it clear that Graham James going to jail wasn't nearly the end-point for Kennedy's story. Woven along with the stories of Graham Jolicouer and Mikki Decker, two fellow sexual abuse victims who tell their own moving accounts of abuse, the far-reaching effects of the pain and damage these three suffered is explored with fraught honesty in Swift Current.
Kennedy, who's now a fierce advocate for abuse prevention programs, co-founder of the Respect In Sport group, titular head for the Sheldon Kennedy Child Advocacy Centre in Calgary, and a member of the Order of Canada, is tackling the narrative that everything is fine now. Because it isn't. But it's better and it took a gut-wrenchingly long time to get here.
Samaritanmag spoke to Kennedy about Swift Current before the film's premiere.
What made you decide to participate in a documentary like this?
Josh (Rofé) approached me and my longtime friend and business partner (Wayne McNeil) about wanting to do a film. We had been thinking about the story. One of the things we knew is that if we looked at the film that was done on my life (The Sheldon Kennedy Story, 1999) it kind of ended with everybody sails off into the yonder after you tell your story. And we felt that that's the farthest things from the truth and we've learned a lot in the last 15-16 years. We felt we could tell a story that was focused on the impact on the victims. We needed to put together a film that showed the impact of this crime on the victim and how it's connected to the mental health.
One of the things I found illuminating in the film was how long and difficult the process of healing is. It's not like, say, a broken hand where you get a cast and six weeks later you're fixed. This affects people for a long time. Was that the message you were trying to give?
Absolutely. It's about painting a picture of the impact of this crime. We know today there's good science related to kids that have been abused, and the impact of trauma. Kids brains develop differently, which we know now and we understand now. We used to hear that "scars last a lifetime" with abuse, right? What are those scars? The scars are the permanent damage that happens to these kids brains when they're being developed and they're in these states of trauma. It's long lasting anxiety that reshapes the brain and how that brain develops.
We wanted to make sure that people understood what it takes to get out of the place of being a victim and get your life back and give them hope that you can live a healthy life. But it's going to take a lot of work. There's no question that I live my life today feeling good and healthy. I'm better than I've ever been today, but I also I strive to create longer and longer gaps between those suicidal thoughts that creep in. And that just continually takes work and I don't think it's ever going away and that's the mental health peace that we're left with.
One of the other things that the film did was show the collateral damage of abuse. Yes, that it's tough on victim is obvious, but your mother, your children, your relationships, these people all suffer, too. Do we do enough make sure people understand the impact?
The point of the film is to try to paint these pictures for people, the ripple effect, the long term effect. If I look at our family and just that alone, that ripple effect is absolutely huge. I say that knowing I've been a person — and we've been a family — that's had resources. With the NHL and the NHLPA, we've had some of the best therapists trying to help us.
I know the impact that it's had on my family, especially my daughter. I look at my own daughter... "Oh, dad's going off to treatment again," "Why is my dad leaving?" And then when I'm in the process of getting sober, "Why is dad angry?" "Why is dad raging?" Well, that's the reason dad drank to begin with. So working through to that healing place there's a lot of damage that goes on even though you're not turning around and abusing your kids. There's a lot of hurtful behaviour that comes with it because of what one has to do to work through the damage that's been inflicted on them.
I'm at a place where I can be the dad that I want to be now, but the reality is we're dealing with stuff that has been some impact on my daughter when she was really young. My daughter's fine, but it's taken work to create those relationships of trust and now she's able to verbalize the impact it had on her. Even in the film if you listen to my daughter she hated her dad, and that's taken some work. So can you imagine the people that are in these situations that don't have the opportunity or the resources? We know where they end up. They end up dead. We don't connect the dots. We blame it on the overdose or we blame it on whatever and to me we need to shift the question from "What's wrong with you?" to "What happened to you?"
You mentioned that you had access to good resources through the NHL and NHLPA. How valuable was their support?
I know Dr. Brian Shaw (co-director of the NHL/NHLPA Substance Abuse and Behavioural Health Program) very well. With addiction, helping with these issues is very difficult because someone can only do so much, an organization or a service can only do so much. And then it has to be the willingness of the individual to commit to doing it. A lot of times people want to be fixed. "Can somebody please help me fix me?" But it's a commitment. My experience was, pretty much from the span of me first entering treatment, or first being in trouble with the law when I was 16 in 1988, until I was 35. So pretty much 21 years of treatment, mental health, hospitals, before I even "got it." And in the NHL people stuck with me and gave me the chance and never gave up on me to get my life back. This has been a learning process for them, too. Because nobody ever asked me what happened to me. They were always trying to fix the presenting issues. They were always trying to fix the addictions. So if we look at the systems, they've come a long way to really take a bit of a deeper look.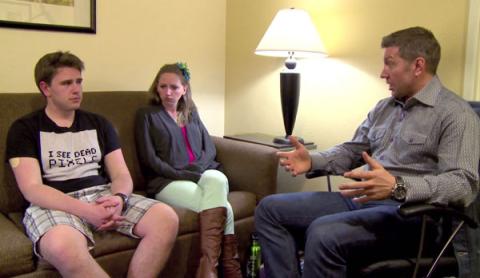 The film isn't all about your story. We're also introduced to Mikki (Decker) and Graham (Jolicouer), who've experienced trials of their own. How important was it to include someone else story for perspective?
To have a wider focus I think it was huge. What you're seeing is three different victims with three different perpetrators, but with very similar impacts. I think that's what we wanted to show. And what's interesting with that first footage with Mikki and Graham, we hadn't even decided to make a documentary at that time. I was asked to speak at Durham College and Mikki and Graham, when they disclosed their abuse on film, that was the first time that they disclosed to anybody — I had never met them in my life.
That whole scenario of those two admitting they were abused in a room full of fellow students is really shocking, really strong. They're doing this in front of their peers, their fellow classmates, friends... it's heavy.
I know, eh? One of the things that I always see when Mikki is telling her story on that mic and I look at the girls behind her, how uncomfortable they are when Mikki is disclosing her story. Because they don't know whether to laugh; they don't know what to do. It's very interesting, the reaction.
Isn't that part of this whole thing? To get past that sort of bewildered reaction and get people to a place where they know how to respond?
Well, that's where we need to get to and that's the point. The film sets the table for the conversation to have as a community to say, "This is what we need to do." And, for me, it's about having clear direction and connecting the dots. The film, I think, makes sense for people. Like, it's an a-ha moment; they go, "Okay, I get why my friend might be a cutter. I get where maybe something more's going on."
Another area of the film that was quite telling was during the lookback to when you rollerbladed across Canada for charity. There were stops along the way where you said sometimes 10, 20 people opened up and confessed being abused. Being the confessor to the country had to have been a huge burden at the time for you. And even now. How do you navigate that?
Well, I've had to learn. When I rollerbladed across the country I was still raw, I still needed to deal with my own stuff. I just knew that if I didn't do it then I probably never would have done it. I needed to do it and it was mainly about allowing the conversation to happen. But back then I had disclosure after disclosure after disclosure and what I realized was the damage was all the same: The inability to have relationships, the trust, what we know now is the disorder that is developed through that brain stuff for young kids. Addiction and self-harm. And back then I thought I had to fix everybody and I took all their pain.
And what I've learned over the years is all I need to do is listen. I can't fix anybody. They have to do the work to fix themselves. What I can do in my role is go, y'know what, if they're in a place that they need help I need to be able to point them to the services, and maybe make that phone call for them to get them that help. And that's all I need to do. And also a lot of times all people want to do is say "Thank you." And I can tell, when they say thank you and they've got tears in their eyes, I'm telling ya it doesn't matter whether I'm on Parliament Hill, whether I'm in a locker room, on the streets, at a rock concert or in a grocery store, you know they've been impacted. Or somebody very, very close to them has. I'll tell you I can't explain how much that happens.
One of the related things in all this is what we'll call the "small town code of silence," of not talking about the problem. How do you fight the culture of silence to get people to address these things?
I think these issues carry fear. Just so you know what we do at the Sheldon Kennedy Child Advocacy Centre, we do all the child abuse investigations in Calgary and a lot in Southern Alberta. If you look at the stats, we do 125 investigations a month. We collect data. What I learned in school was "stranger danger" and "scars last a lifetime." And I think we've already explained the scars last a lifetime, but I think stranger danger is the farthest thing from the truth.
People that are hurting their kids a lot of times put themselves in the position of power within our small towns and within our communities. So if we look at our numbers, 47 percent of the kids we see that come through our doors are being abused by a parent or caregiver. And 97 percent of the kids that come through the door have been abused by somebody they know. So what I think happens is the abuser doesn't just manipulate the child, but they manipulate everybody around that child so they can have total access with that individual, with that child. And everybody looks at them, "Oh gosh, there's no way they'd ever do that, they love those children." I think what happens is the town gets manipulated. And then the shame and the guilt comes on and they say, "Oh my God, I can't say anything because I let this person be with this kid, have ice times at the local rink after hours..." In their minds they're going, "That person's great, they're teaching them to be the best hockey player they can be, or the best baseball player he or she could be," right? I think a lot of that is what happened. It's the fear and the self-blame for letting this stuff happen once the story breaks.
It makes sense that would be people's reaction, because nobody wants to call attention to their own being tricked, especially about something like that.
I look at Swift Current, at the shame and the guilt that's around that town today. There were a lot of people that were around that situation that had a gut feeling something wasn't right and they didn't know what to do about it then. If I look at Hockey Canada now, no youth-serving organization that I know of in the world is more proactive than Hockey Canada when it comes to training their coaches on abuse, bullying, harassment, discrimination and neglect training. It's mandatory for every coach across this country now and in most provinces, parents too. And what is the goal of that? It's to empower the bystander. Give these adults who are in charge of our kids the clear understanding and direction and confidence if they recognize something that doesn't look right or sound right to be able to ask questions.
How different it is now versus 20 years ago if you're young, in a sport and have concerns?
It's night and day. Right now to be a coach in this country in most sports there's mandatory training, there's never-with-a-child-alone protocols, there's all sorts of different policies and procedures that are put in place. I think that even the ability to have a conversation about this stuff is night and day. When I told my story back then the initial newspaper articles that came out were on Graham's side, not believing the wild child Sheldon Kennedy, he's got to be lying. It wasn't until Graham James pleaded guilty that those swapped around.
So I look at sport today and the reality is with sport, there's good science behind that sport is a healer and a type of therapy. The shift really needs to get out of the focusing on one percent that ever make a career out of sport and it has to be looked at as how do we make sure we create the safest, most supportive environment for these young people to show up and want to come back every day? And how do we use sport for what sport was designed for, bringing people together and creating good people and teaching teamwork and feeling good about yourself and creating confidence and moving people along? I think that's important.
Watch the Swift Current trailer:

Air Jordan 1 Retro High OG "Board of Governors" White/Black-Royal Blue