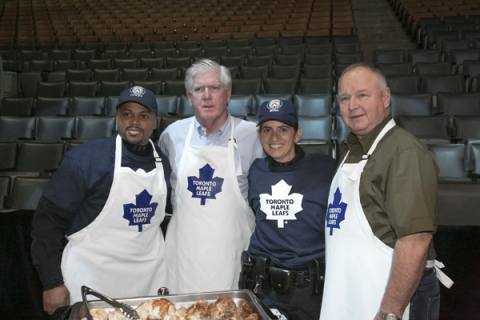 While the National Hockey League lockout continues, members of the Toronto Maple Leafs camp, including president and general manager Brian Burke and head coach Randy Carlyle, were at their stomping ground, the Air Canada Centre Dec. 18, to do something that likely raised their spirits — as well as hundreds of other people's.
The Leafs' executives and employees — in partnership with Second Harvest food bank and the Salvation Army — helped serve a mega holiday dinner in the arena bowl for close to 900 guests from over 30 local shelters and agencies, such as Covenant House, Kiwanis, Eva's Phoenix, Red Door Shelter, Right To Play, Sketch, YMCA and Yonge Street Mission (see full list below).
Teamsters Local Union 847 and the United Food and Commercial Workers Local 333 donated their time.
Maple Leaf Sports & Entertainment executive chef Chris Zielinski and 18 people from the food and beverage staff spent the previous two days preparing the meal. MLSE president and C.O.O. Tom Anselmi also joined vice-president of Hockey Operations Dave Poulin, Burke and Carlyle.
"We are all very fortunate to live in the great city of Toronto. It's important, especially at this time of the year, to assist those that need it the most," said Burke in a statement released by Maple Leafs Sports & Entertainment.  "We hope that, in this small way, we were able to offer a helping hand by opening our Air Canada Centre doors and providing a special holiday dinner. The Maple Leafs would like to extend a very heartfelt thank you to Second Harvest and the Salvation Army, as well as the long list of generous corporate donors that helped make this event possible."
All the leftovers from the dinner were collected by Second Harvest and donated to Good Shepherd Ministries. Every day Second Harvest rescues excess food, including from Air Canada Centre, and delivers it to more than 200 Toronto social service agencies with a wide variety of people in need, according to the press information.  In 2011 and 2012, the food bank delivered over 7.2 million pounds of donated food to agencies in Toronto.
Many of the Salvation Army shelters from across Toronto attended the Holiday Dinner.
Below is a list of participating agencies: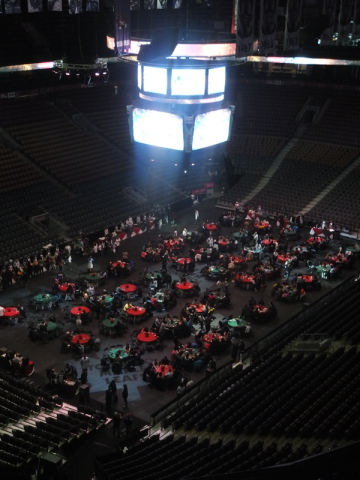 Chris Penrose
Covenant House
Daily Bread Food Bank and its agencies
Eva's Phoenix
Evangel Hall Mission
Fort York Food Bank
Fred Victor
Holiday Helpers
Hospice Toronto
John Innes
Kids Up Front
Kiwanis
Leafs Hockey in the Neighbourhood
Massey Centre
MJKO
North York Harvest Food Bank and its agencies:
PARC (Parkdale Activity Recreation Centre)
Parkdale Food Bank
Project Esperane
Red Door Shelter
Right To Play
RISE – EMYS
SAWW
St. Felix Centre
St. Nicholas of Bari
Salvation Army Locations from Across Toronto
Second Harvest
SKETCH
Street Connection
TDSB
Thorncliffe Neighbourhood Office
Toronto Police
University Settlement
Waabanong Aboriginal Head Start
YMCA – Youth Drop –In
Yonge Street Mission
YWCA
adidas garwen spezial white shoes