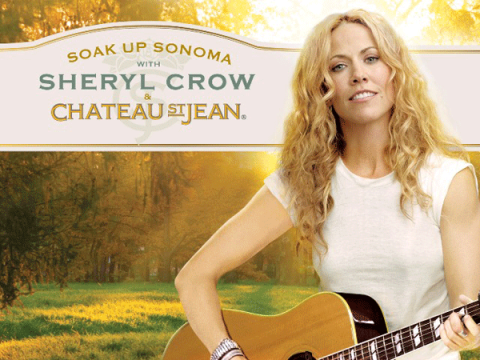 The charitable space surrounding breast cancer is noisy. But a Toronto-based non-profit hopes the presence (albeit distantly) of Grammy-winning singer/songwriter Sheryl Crow will raise awareness and funds for one of its cornerstone programs assisting survivors of the disease.
From Oct. 12 through Nov. 8, $2 from every bottle of Chateau St. Jean wine purchased at the LCBO will benefit Kate's Kitchen, a community kitchen where women who have battled breast cancer gather to cook, dine, listen to guest lecturers and chefs and "share recipes, skills, and knowledge around nutrition and general health," according to its website. 
A community kitchen is defined as "a public space where groups of people cook on a regular basis offering the opportunity for participants to share skills, socialize and reduce meal costs by cooking collectively."
The campaign, being rolled out for the first time here, is based on the Notes of Hope campaign run stateside by the California-based Chateau St. Jean winery which uses breast cancer survivor Crow as its ambassador. In a video promo for the U.S. only, she calls herself a breast cancer awareness advocate, and says, "So when Chateau St. Jean asked me to join their breast cancer awareness month campaign, I didn't skip a beat before saying, 'Yes.' Last year, we raised $100,000 and hope to match that donation this year by giving $1 for every CSJ bottle purchased during the month of October."
For the Canadian 2014 campaign, Chateau St. Jean — owned by Australian-based Treasury Wine Estates — will donate up to a maximum of $30,000 to Kate's Kitchen, Ontario customer marketing manager Tara Longman tells Samaritanmag, adding that the label has only been on LCBO shelves for about a year. Stateside, where the brand is better known, as noted, $1 from each bottle benefits various local breast cancer charities.
Crow's face adorns print advertisements about the Ontario campaign in the LCBO's Food & Drink Magazine as well as neck-tags on bottles of Chateau St. Jean chardonnay, pinot noir (for $18.95 and $19.95, respectively) and other varietals retailed at LCBO locations province-wide.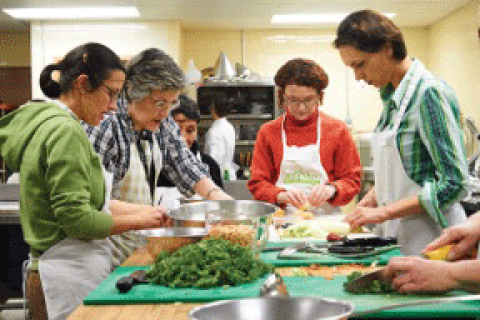 Kate's Kitchen, one of many free community kitchens operated by Toronto food education and advocacy organization FoodShare, is by all accounts, a deeply meaningful program for participants, roughly a dozen or so per monthly session. Moreover, it highlights the importance of healthy food — access to it, knowledge about growing and preparing it — that forms the backbone of FoodShare's mandate.
"We have a program for pretty much every link in the food chain. But the core is all about healthy eating," long-time FoodShare executive director Debbie Field tells Samaritanmag. "Women participating in Kate's Kitchen get together and cook and we're delighted this winery is raising money for us."
As Field explains, Kate's Kitchen is named for former FoodShare staffer Kate Sigurdson who died of breast cancer in 2007. "After people have battled something heavy like cancer or heart disease, they experience a readiness to change. They are keen to do everything they can to learn how to eat healthy foods.
"Ours is a very non-judgmental place. It's not, 'Oh, if I had eaten better I might not have gotten cancer.' It's 'I am living with cancer and I want to do everything I can to eat as healthy as I can. And I want to learn easy ways to feed myself and my family.'
"Whether you are a child, an elderly person, a person with cancer or diabetes, a working parent who is rushing out the door, there are easy things we all can do to increase our consumption of vegetables and fruits and increase our knowledge of how to eat healthy food. How to make kale so your family will eat it? Those are the kinds of themes we incorporate in our work."
Field confirms monies raised help offset costs, including "Chandra Deen, herself a breast cancer survivor and the coordinator of the monthly kitchen program. Plus guest chefs, the cost of the food, facility rental and that kind of thing. The programs are very fun. If people want to learn Asian cooking for example, that's something we would facilitate," through invited guests, Field explains.
As for why TWE Global partnered with Kate's Kitchen, Longman says, "There is a natural connection between food and wine.  Plus, as a breast cancer survivor, Sheryl Crow promotes healthy living and even has a cookbook called If It Makes You Healthy" — the title is a play on Crow's 1996 hit song 'If It Makes You Happy' – "so this seemed like a way of extending into this community.
"Plus," adds Longman, "FoodShare is such an established organization. And they have been a great partner. There is often hesitation when it comes to cancer and alcohol but they understood that connection between food and wine and it was great for us to be able to bring something to the table. While FoodShare itself is big, Kate's Kitchen is a less-known entity."
Indeed, as FoodShare's Field confirms, her sprawling organization — founded in 1985 and receiving funding from all three levels of government plus various corporate entities — entered cautiously into the partnership with TWE Global. "All our corporate sponsorship agreements go through rigorous process," Field says.
"But they approached us, we brought it to our board of directors, they approved it. This one felt right because it was part of a conversation around breast cancer in general. It was a respectful way of drawing attention to the fact that women with breast cancer are living long lives and good lives. So it had a good message from our point of view."
Field continues: "Often, we think of food access as being about poverty. And what's so important about the work that FoodShare is doing — and what's so clear in Kate's Kitchen and other community kitchens —  is that, rich or poor, old or young, all of us need more food literacy, particularly when we think about health-related issues.
"When I arrived at FoodShare in 1992 they already had an active community kitchen program and FoodShare is the first organization in Canada to do both community kitchens and gardens. We're not sure how this campaign with the winery is going to go or how much will be raised as it's never been done in Canada before. But we're hopeful." 
Nike Shoes