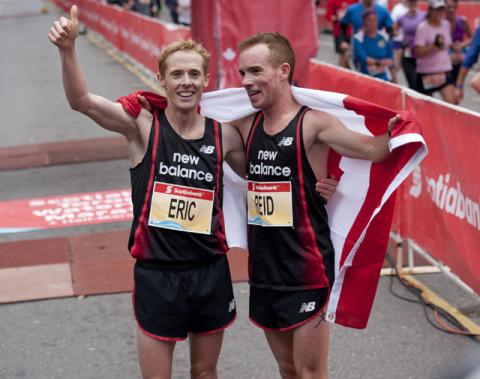 The same shoes Canadian marathon stars Reid Coolsaet and Eric Gillis used to train for their 42.2 kilometre race at the 2012 Olympics in London, England on August 12 are for sale at Canadian retailers while supplies last.
Famed shoe brand New Balance created the red Maple Leaf-emblazoned 890 Canada shoe, an Olympic-inspired ultra light-weight trainer, in honour of Canada's appearance in the men's marathon and 15 percent of net proceeds from the sale of those shoes will go to New Balance's Speed River Spirit Fund to a maximum of $10,000.
Coolsaet and Gillis (along with Vancouver-based Dylan Wykes) will see Canada represented in the event for the first time since the 2000 Summer Olympics
"They both use the 890 shoe for training purposes," New Balance Canada's marketing manager Jon Purdy tells Samaritanmag. "I believe their race day shoe is the NB 1400- more a racing flat — and they also train in the 870. The 890 is definitely in amongst the shoes they train in."
They are both Team New Balance-sponsored athletes. "We have individual sponsorships of Reid and Eric, and we have been working with the Speed River Club for some time now," says Purdy. "We have leveraged them to be brand ambassadors for New Balance and in turn we have helped offset some of the costs they have, to get to competitions and so on."
Based in Guelph, the Speed River Track and Field Club was founded in 1997 by Dave Scott-Thomas, who remains at its helm. It began as a club for University of Guelph student athletes and local runners and has grown in size and scope to accommodate athletes of all ages and from across the country.
The club has nearly 150 members, and it offers programs for all ages, right up to the Olympic Division, which includes some of Canada's top performing athletes.  It has an evocative name, and its members do indeed go with the flow, none more so than Coolsaet and Gillis. Joining them in London are fellow Speed River athletes Hilary Stellingwerff (womens 1,500 metres) and Alex Genest (3,000 metres steeplechase)
Scott-Thomas tells Samaritanmag.com that the partnership with New Balance goes back five years. "We wanted a relationship with a footwear company where the relatability came first and the strict dollars and cents came second. It has been a healthy and evolving relationship, and it has been getting stronger, with no end in sight. In Canadian running, we have grown together, and they have come up with some exciting initiatives."
The approach of the London Olympics represented, in Purdy's words, a chance to take this relationship "up a notch." "We thought it'd be a great tie-in to do something over and above our current commitments with them, so we came up with The Spirit Fund last year."
The goal of the Fund is, explains Scott-Thomas "to provide paramedical support for our athletes, with physiotherapy and massage therapy. You have guys and women working at this level and they cannot always get the access at the higher end that they need. We want our elite athletes to be world class and in order to do that you have to take care of a lot of details. This helps us take care of a very important detail of their training."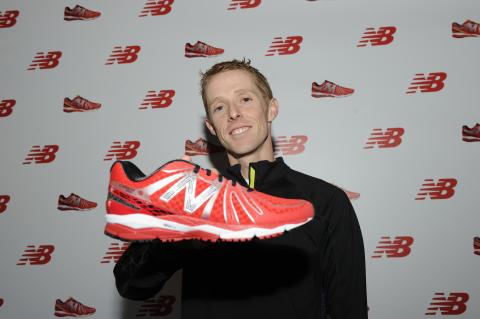 So what about the shoe itself? The lightest running shoe in its class, the 890 Canada is based on the cult favourite 890v2, and it comes in a patriotic red, with a Maple Leaf insignia.
Perhaps not just for flag-waving reasons either — a 2005 anthropology study at UK's Durham University published in Nature "outlined their research that athletes who wear red are more like to emerge victorious."
The shoe hit stores on June 1 and New Balance reports strong interest and sales. Given that there is a limited run of just 6,400 pairs, the company expects the line to sell out at the retail list price of $139.95.
Scott-Thomas didn't need convincing about the merits of the shoe. "We were using the 890 as a 
high-end functional elite performance piece of footwear before this new version came out. Our guys were already wearing it on their feet when they were heading out the door to train and compete." He also reports the shoe has received approving comments at airports on his travels.
New Balance is stressing the charitable component in its promotion and marketing of the 890 Canada. "We do want people to realise that when they are buying the shoe, their money is not just going into the pockets of New Balance, the retailer, or the manufacturer, but is really helping Canadian athletes. Not just at the Olympics but in general, keeping them healthy and having a good events season," says Purdy.
As a company, New Balance has shown a commitment to supporting various causes and charities. Within Canada, the Canadian Breast Cancer Foundation and its Run For The Cure event has received assistance. "We're also involved in helping fight childhood obesity and in responsible sustainability practises," explains Purdy. "More than anything it is about supporting a healthy and active lifestyle."
Air Jordan 1 Retro High OG "Board of Governors" White/Black-Royal Blue