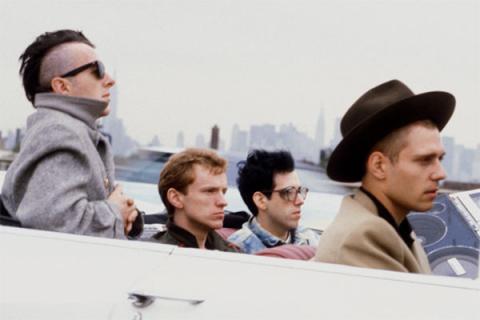 When punk rockers The Clash were active between 1976 to 1986, the band led by Joe Strummer used their music to confront things like racism, police brutality, classism, terrorism, capitalism and pretty any other related cause that could negatively impact young people.
More than 30 years later these songs are still as relevant as ever, which goes a long way to explaining why 69 radio stations across 16 countries have committed to playing The Clash's music on Feb. 7 as part of International Clash Day.
Hosted by influential Seattle radio station KEXP as well as the American Civil Liberties Union (ACLU) and the Joe Strummer Foundation, International Clash Day is meant to be a celebration of all things anti-racist, anti-fear, pro-solidarity, pro-unity and pro-inclusion.
To join in the celebration Samaritanmag gathered 10 of The Clash's most meaningful songs in the playlist below. May they rock your casbah on International Clash Day.
"White Man In Hammersmith Palais"
This early Clash single touches on anti-violent ideals, supports the concept of wealth redistribution and promotes the idea of unity between black and white youth.
Written to the tune of American Civil War anthem "When Johnny Comes Marching Home," this single from The Clash's second album Give 'Em Enough Rope warns about the rise of racist political groups like the far-right British National Front party.
One of The Clash's most famous songs, "London Calling" confronts a number of issues, including nuclear panic, police brutality as well as concerns about flooding along the River Thames.
This song confronts the lack of quality jobs available for young British people in 1977, citing dreary office jobs, jobs in shops, or perhaps worst in their eyes, jobs as cops.
The first single ever released by the band in 1977, the song is a reference to the band joining in to support rioting black youths in  Notting Hill, West London who were pushing back against overtly racist policing.
With police and establishment figures engaged in "clampdowns" on any groups — striking workers, social agitators, punks, football hooligans, etc. — that conducted themselves in anti-authority ways, The Clash wrote this response track encouraging youth to not become tools of a capitalist society.
A cutting track from the adventurous 1980 Sandinista album, "The Call Up" references the doomsday clock and confronts the concept of the military draft system, particularly the United States' selective service draft system.
Inspired in part by Iran's ban on western music in 1979, the song envisions a scenario where an Arab king commands his jet fighters to drop bombs on subjects who are listening to rock music. Instead, the fighter pilots rebel and blare rock music from their plane cockpits.
This is a cover version of a song written by Sonny Curtis in 1960 and popularized by the Bobby Fuller Four. In 1989 when the U.S. army had surrounded the Apostolic Nunciature in Panama with the intention of forcing dictator Manuel Noriega to surrender, they'd play this song on loudspeakers to intimidate him.
Joe Strummer explained that this 1978 single was about how terrorists probably love the media coverage and related panic they cause when news organizations do hyperbolic pieces about the harmful acts they commit.
balerínky