For musician/producer Darcy Ataman, founder of Canadian Artists for African Aid Inc., a.k.a. "Song For Africa," what began as his  "little contribution to the world" is now an ongoing mission to raise awareness about humanitarian issues in Africa and make a definable difference in some of the most poverty-stricken areas of Kenya and Rwanda.

When Ataman enlisted Billy Talent, Big Sugar, Choclair and other acts to perform on "Song For Africa," a song he'd written with Rob Wells, Luke McMaster and Simon Wilcox in 2006 to raise awareness about the African AIDS pandemic, he had no idea how far the concept would expand. Now, four years later, Sony Music Entertainment Canada will put out a digital-only album June 15 and a documentary will air on Citytv June 12 at 8 pm (EST), both entitled Rwanda Rising Up.

"I just got the first mix back yesterday for the lead single ['Beautiful'] and it's phenomenal," says Ataman, who is CEO and executive director of CAFAA, now based out of Winnipeg, Manitoba, but with interns and volunteers in Toronto; Montreal; London, England; Rwanda and Nairobi.

The song will be serviced to Canadian radio March 22 and features Crash Parallel's Tim Edwards with the Rwandan group Holy Jadoves. It will be available on iTunes March 30.

Edwards, along with Hot Hot Heat's Steve Bays, Damhnait Doyle and Sarah Slean, traveled to Kigali, Rwanda to record with Grammy-winning Canadian producer David Bottrill (Silverchair, Tool, I Mother Earth). The album also features The Trews, Billy Talent, Classified, Choclair and Operation MD.  The track listing is still to be determined.

Operation MD, featuring Cone McCaslin (Sum 41) and Todd Morse (H2O, Juliette Lewis & The Licks), is presently completing its track. "They are working around samples I gave them from a traditional Rwandan group I gave them — the Jean Basqueau band," says Ataman.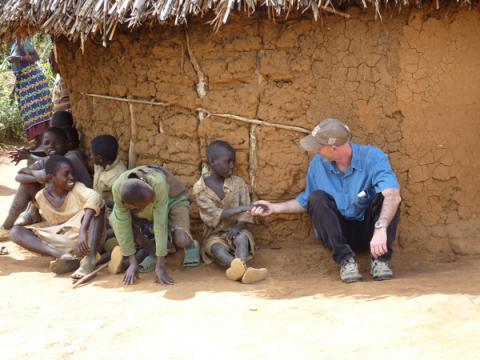 "Song For Africa" will not appear on the album, but it did the trick, getting the momentum going for CAFAA, which incorporated as a non-profit in November 2006. According to SoundScan Canada, the single only sold 1500 copies, but significant funds were raised from other sources. "I don't know the specific number regarding money raised on the single," Ataman says, "but we're about at the half-a-million mark now, including money from private donors, corporate sponsors, and sale of the single and documentary DVD. You hit up everyone and anyone."

The idea for the charity single came as a result of his pastime in the studio, reading online news sites such as BBC and Australian newspapers. Ataman, a producer/engineer/mixer, who has worked with DJ Kemo from Rascalz, Grand Analog, McMaster and James, Canadian Idol winners Ryan Malcolm and Kalan Porter, and Philadelphia producers Dre and Vidal, says he would often "reboot" his brain this way after long hours in the studio.

"I would see these stories about what was happening in Africa and I was really dismayed that it wasn't in the local news or domestically," he says. "Why wasn't a news story over here? The more I learned about it, the more I wanted to level the playing field a little bit."

In addition to Billy Talent, Choclair and Big Sugar, the original CD single and video pooled the talents of Damnhait Doyle, Kyle Riabko, Not By Choice, Luke McMaster, Simon Wilcox, Rob Wells and Easily Amused. Initially, Ataman considered "Song For Africa" a one-off, "my little contribution to the world," he says, but in August 2006, after its premiere at the International AIDS Conference in Toronto, the project gained momentum. The video went into medium rotation on MuchMusic; the single stayed at No. 2 on SoundScan's CD singles chart for the entire month and the project received television coverage on eTalk, ET Canada, CTV News and CBC News.

"In the fall of 2006, I took my first trip over to Africa," he recounts, paying for it with his own money. "The first time I went to Kenya and I went to some rural areas in the Maasai Mara and [then] I went through the urban slums. There's a place called Kibera, which is now the biggest slum in Africa, period. There are one million people in 11 square kilometres without any provisions whatsoever.

"Once you've seen behind the curtain of the world, so to speak, it really becomes hard to forget about it and go back to your regular life."

So Ataman didn't go back to regular life, not entirely. He decided to do a documentary, also entitled Song For Africa, which was directed by Derek Horn in the summer of 2007. The humanitarian organization CARE Canada "helped logistically with the Kibera portion of the film," he says. The idea of the doc, as Ataman puts it, was "to follow the money trail and say, 'Your dollar went here and this is how it changed someone's life in a sustainable way.'"
Along with CARE, Ataman developed the SFA Scholarship Fund, an aid initiative, aimed at ensuring that at least some of the youth and children living in Kibera get a chance at an education.   "We were filming there and met these absolutely wonderful kids that have a work ethic that I'd never seen before," Ataman says.

"When you live on less than a dollar a day and eat once every two days, school fees are almost impossible [to pay for], but everyone needs something different. It took about five seconds on the ground to realize that it was utter madness to think I knew what was best for them. You have to sit down and have a dialogue that's mutually respectful. We have a rep that goes once every two weeks to visit recipients and their families. It's very individualized."

Ataman speaks of one girl who he first met two years ago. "She literally lived in a cardboard box, and she was very shy because most of the people in her situation are, because they're bombarded daily by the worst parts of life. I asked to see her homework and she brought me this biology and physics homework I certainly couldn't understand." Now 17-years-old, she's prepping for med school.

But the program offers help beyond that, extending to whatever is needed to allow recipients to continue their studies. For instance, a student who had contracted Malaria received medical treatment thanks to the scholarship program's flexibility and was able to recover and return to school.

The Song For Africa documentary was broadcast nationally on Citytv in September 2008, then screened at a World Bank Conference, where it was seen by volunteers for another African aid organization, Partners In Health, which prompted CAFAA to expand its work into Kigali. Building on the concept that had worked so effectively in 2006, Ataman hit on the idea of a music enrichment program that partnered Canadian recording artists with Rwandan musicians, and would compliment an existing Partners In Health program aimed at HIV prevention.

In the first of two seminars they've run to date in Africa, portable recording rigs were used to enable participants in the Partners In Health program to develop songs about issues surrounding HIV prevention, which are then disseminated into the community. While each seminar involved roughly 35-40 participants, for the second, says Ataman, he wanted to up the ante. "We flew in all the equipment from Toronto and built a studio in Kigali. The process and results are the focus for both the new album and the new documentary, Rwanda Rising Up."

Directed again by Horn, the film also includes an interview with Canadian Senator Roméo Dallaire, known for his efforts to halt the Rwandan genocide when he was Force Commander of the United Nations Peacekeeping Force in Rwanda in the early '90s.

The work is still just beginning.

"What we've found out, on the ground, is that to really see what works and what doesn't, you just have to try it," says Ataman.

That is the very core of "Song For Africa," an approach that has fueled Ataman's belief that one person can make a difference in the world.

For more information, go to www.songforafrica.com
3M Nike Air Max 90 CZ2975-001 Release Date