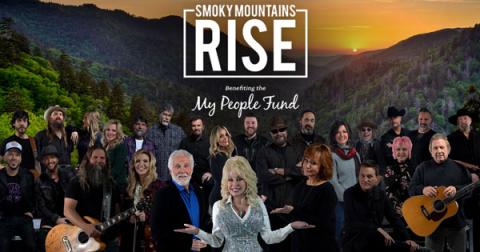 Country singing star Dolly Parton's star-studded telethon to help Sevier County, Tennessee wildfire victims has raised more than $9 million U.S. ($12,031,897 CAD).
The Smoky Mountains Rise: A Benefit for the My People Fund telethon took place Dec. 13, airing on GAC, AXS-TV, RFD and The Heartland Network and featured performances from Dolly Parton, Kenny Rogers, Hank Williams Jr., Chris Stapleton, Reba McEntire, Alison Krauss, Michael W. Smith, Chris Janson, Big & Rich, LOCASH, Chris Young, Montgomery Gentry, Jamey Johnson, Cyndi Lauper, Don McLean, Amy Grant, Alabama, Aaron Lewis and Rhonda Vincent.
Extensive drought in the region around Parton's home area of Sevier County ignited wildfires on Nov. 23 that have since spread throughout the region. The fires have consumed more than 18,000 acres so far and forced 14,000 residents to flee the area. It's estimated that more than 1,300 families have been displaced by the fires. The fires have razed at least 2,500 structures and are responsible for the deaths of 14 people.
Through the Dollywood Foundation's My People Fund the singer behind hits like "Jolene" and Islands In The Stream" is promising to provide $1,000 U.S. ($1,337 CDN) each month for six months to every family who lost their primary residence in the fires. The My People Fund has already started distributed cheques to the affected families.
"I am overwhelmed by the generosity of the people who have donated from all over the country and to my friends who donated their time, talent and money for My People," said Parton in a statement about the telethon. "The response has been so overwhelming that we haven't been able to count all of the donations yet; right now, in total, we have raised about $9 million dollars for the folks who lost everything in Sevier County."
In addition to the musical performances, high-profile figures like Paula Deen, Lee Greenwood, KC of KC & The Sunshine Band and members of the Tennessee Titans helped man the telethon phone lines. On top of that, stars Katy Perry, Carrie Underwood, Larry King, Steve Harvey and Kiefer Sutherland contributed special video messages for the telethon.
The Dollywood Foundation is continuing to accept donations to the My People Fund.
Watch Dolly Parton talk about the My People Fund
Ανδρικά Nike