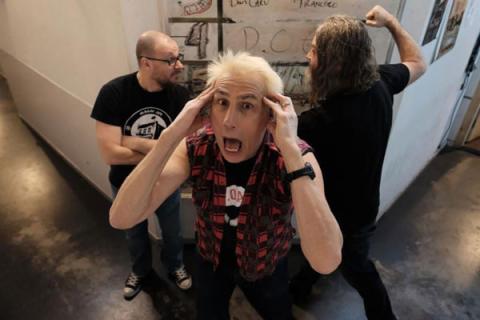 First-gen hardcore punk band D.O.A. have released a new music video challenging progressively-minded people to "fight back."
"Time To Fight Back," a song taken from the Canadian band's 17th album Fight Back, is two and a half minutes of D.O.A. members Joe Keithley, Mike Hodsall and Paddy Duddy performing while the video cuts to images of notable rebel figures from recent history, including United States Senator Bernie Sanders, gun control activist Emma González, late anti-apartheid activist Nelson Mandela as well as footage from a number of mass protests around the world.
The video also features multiple instances of the words "fight back" getting stenciled or graffitied on to walls and public spaces.
Keithley, D.O.A.'s long-time lead singer, is no stranger to fighting back.
"I'll fight forever against racism, sexism, warmongers and greed," he said in a statement. And he backs up his words.
In 2018 Keithley was voted in as a city councilor in Burnaby, B.C., running on a progressive platform. During his time as a councilor he's been part of the city's Affordable Housing Task Force, helping set up the first homeless shelters in the city and has also been instrumental in increasing the scrutiny placed on local politicians who receive junkets, gifts and perks in office.
"When I ran it was pretty straight forward," said Keithley. "I said housing should be a right and not a privilege and everybody's vote has to count. I'm just using D.O.A.'s mantra: TALK - ACTION = 0 and applying it to politics. It's been fun to get in there and kick some ass!"
D.O.A. have been credited with creating the term "hardcore," a description to define a certain brand of virulent punk rock also played by acts like Black Flag, Circle Jerks and Dead Kennedys.
The band's newest album 1978 is a 21-song compilation of unreleased demos, rare tracks and early singles. The band will be embarking on extensive Western North America and European tour dates to celebrate their 40th anniversary.
Watch "Time To Fight Back"
(Please support Samaritanmag's original journalism by making a PayPal contribution or EMT transfer using  info@samaritanmag.com so we can increase the amount of content and writers we hire. Samaritanmag is the anti-tabloid, covering good people trying to change bad things. Let's make this thing bigger than TMZ.)
Nike air max