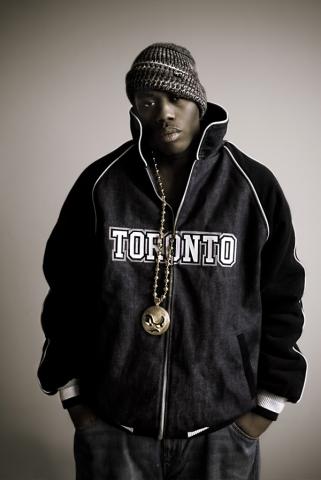 Rapper Kardinal Offishall has spent little time in Canada the past year, as he's been touring the world following the success of his smash single "Dangerous" featuring Akon, but he returns — as he has the past 11 years — to host his annual Charity Christmas Gala in Toronto, December 23, with net proceeds going to the Breast Cancer Society of Canada.
"Cancer, especially breast cancer plagues many in my community," Kardi tells Samaritanmag.com.  "I have close friends of the family who suffer from it. I think the closer we get to finding a cure or learning preventative measures is the closer we can get to saving many tears and getting back stolen years."
The party will be held at This Is London (364 Richmond Street West) and his long-time friend, comedian Russell Peters, will host.  There will be also more than a dozen notable guest appearances, including Grammy Award-winning Brit, Estelle; N.E.R.D.'s new member, Rhea; and Canadian artists Divine Brown, Jully Black, Colin Munroe, Jemini, Saukrates, Graph Nobel, Ro Dolla, and Solitair.
According to the Canadian Cancer Society/National Cancer Institute of Canada's most recent Canadian Cancer Statistics, in 2009, an estimated 22,700 Canadian women were diagnosed with breast cancer and 5,400 will die from it. Approximately 437 Canadian women will be diagnosed with breast cancer weekly and 104 will not survive it. One in nine women is expected to develop breast cancer during her lifetime (age 90) and one in 28 will die from it. Men are not immune to the disease either. It is expected that 180 men will be diagnosed with breast cancer and 50 will die from it. While those statistics are grim, the statistics show that breast cancer death rates have declined in all ages combined and in every age group since the mid 1990s.
The Breast Cancer Society of Canada is a national charitable organization established to fund Canadian research into improving the detection, prevention and treatment of breast cancer, as well as to ultimately find a cure and create awareness through education.
Tickets for Kardinal Offishall's 12th Annual Charity Christmas Gala are $25 in advance/$35 at the door and are available at www.ticketweb.ca, Play De Records and Broadway Fashions. View the official event poster and donate in support of the cause at www.bcsc.ca/donate/kardinal.
Zapatillas de baloncesto Nik