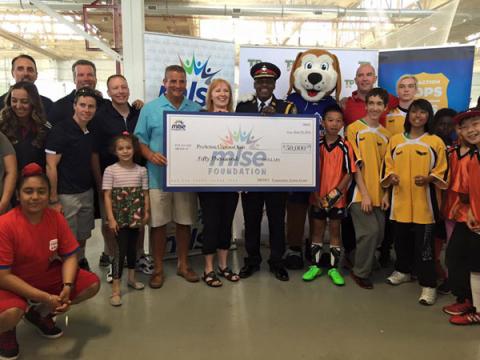 Greater Toronto area police are going to have 50,000 more opportunities to help kids stay active thanks to help from the MLSE Foundation, the charitable arm behind professional sports franchises the Toronto Maple Leafs, Toronto Raptors, Toronto FC and Toronto Marlies.
The MLSE Foundation recently awarded its MLSE Foundation Community Action Grant of $50,000 to the ProAction Cops & Kids program, a charity that matches police officers with at-risk youth in a variety of sports and recreational activities.
ProAction, which has been around for 25 years, will be using the money for its Bridging Communities and Police through Athletics Expanded program (BCPA), a multi-sport initiative to build stronger relationships between the police and the youth community. Officers from different police divisions organize teams in basketball, soccer, flag football, volleyball and/or hockey and recruit up to 20 young people per officer to play on their teams throughout the school year. The BCPA-Expanded program will feature 20 different sports teams and benefit 600 young people from Toronto, Hamilton, Durham and the Niagara Region.
"We're excited to announce ProAction Cops & Kids and their BCPA-Expanded program as the recipient of the MLSE Foundation Community Action Grant," said Michael Bartlett, executive director, MLSE Foundation in a press release. "Their collaboration between youth, local police and community partners is a great initiative that contributes to a more engaged and safer community."
The MLSE money will help pay for the cost of getting these young people involved in sports.
"Thanks to the generous support of MLSE Foundation, hundreds of kids are being given the opportunity to play in a sport they otherwise would not be able to afford," said Jean Milligan, executive director, ProAction Cops & Kids. "With police officers as coaches and mentors, these young people are developing healthier and more active lifestyles while learning how to make positive life choices that lead to safer communities."
The MLSE Foundation's purpose is to support kids through sports and recreation. Some of its signature programs include Kickstart Soccer program, which teaches more than 300 kids ages six to 12 introductory soccer skills, Hockey in the Neighbourhood, which provides protective equipment and on-ice instruction to young hockey enthusiasts at no cost, and Play Partnership, which supports more than 3,000 Aboriginal youth in weekly sport programming.
MLSE's give out community grants on an ongoing basis. Eligible organizations can check out the foundation's website for more information.
adidas Yeezy Boost 350 V2 News, Colorways, Releases