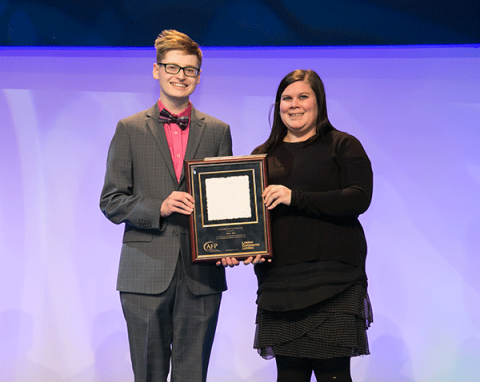 Peter Munk and his wife Melanie, Andy and Valerie Pringle, HSBC Bank Canada, Movember Foundation, and 17-year-old Aidan Aird are among the recipients of the 2016 Philanthropy Awards in Toronto.
Presented on Nov. 23 by the Association of Fundraising Professionals (AFP) Greater Toronto Chapter, during a luncheon at the Toronto Convention Centre hosted by Gord Martineau, seven individuals, couples and corporations were recognized for their largesse in donating their time, money and efforts for the betterment of society around them.
Barrick and Trizec founder Peter Munk and his wife Melanie were named Outstanding Philanthropists. The couple was recognized for their Peter and Melanie Munk Charitable Foundation, which helped establish the Munk School of Global Affairs at the University of Toronto (a $51 million contribution); The Peter Munk Cardiac Centre of the University Health Network in Toronto (donating over $75 million) and the Technion-Israel Institute of Technology of Haifa, as well as a creating a $25 million endowment through the Aurea Foundation, which promotes the study and development of public policy.
Andy and Valerie Pringle were named Outstanding Volunteers for their nearly 40 years of volunteering, conducting successful campaigns for the Centre for Addiction and Mental Health (CAMH), the Canadian Foundation for AIDS Research (CANFAR), Ryerson University, the Shaw Festival and Trans Canada Trail.
The couple also helped raised hundreds of millions of dollars for such initiatives as the environmental green roof at Ryerson University, creating a mental health movement through CAMH and mentoring CANFAR ambassadors who are making a difference in the fight against HIV and AIDS.
HSBC Bank Canada is this year's Outstanding Corporation. To celebrate its 150th birthday in 2015, the organization invested $7.1 million in 81 Canadian charities that supported over 180,000 children and youth to access education and environment-focused programs. The biggest beneficiaries are the Children's Aid Foundation and Pathways to Education Canada, with HSBC committing to support 3700 of Canada's at-risk children and youth, via education, emotional and financial support. Through the Pathways HSBC Indigenous Educational Attainment Fund, the company is empowering indigenous youth to complete high school and transition to post-secondary education.
The 2016 Mo Davies Award for Excellence in Fundraising by A Small Organization went to New Circles Community Services, a grassroots charity that offers free clothing, social programs and training opportunities for low-income residents in Toronto's Flemingdon Park, Thorncliffe Park, Victoria Village and Taylor-Massey neighbourhoods.
Founded in 2005 by social worker Cindy Blakely, the charity expanded considerably when Alykhan Suleman joined as executive director in 2013, relocating the clothing bank to an affordable warehouse space and redesigning that space to simulate a retail store called GLOW (Gently Loved Outfits to Wear.) GLOW is now Toronto's largest clothing bank, serving 9000 people annually and receiving 200,000 lbs of quality clothing yearly.  In the past three years, the charity's net assets have grown from $65,000 in 2013 to $425,000 in 2015.
Aidan Aird, 17, is 2016's Outstanding Youth in Philanthropy. Two years ago, he became involved with 360° Kids and spent a cold winter night on the streets of York Region to experience what life for a homeless youth would be like.  After spending a night chilled to the bone after failing to find food and shelter, Aird devoted himself to raising money to support at-risk youth, rallying students from 15 schools to raise $23,000 earlier this year. Combining his passion for science with his philanthropic drive, Aird regularly conducts lectures, presentations and fundraisers to help eliminate youth homelessness and produce viable solutions for providing clean water, air and alternative energy sources.
The 2016 Outstanding Foundation Awards went to the Movember Foundation. Initially an Australian initiative, Movember has grown into a worldwide movement focusing on mental health, suicide prevention and raising awareness about testicular and prostate cancer.  Since its inception in 2003, the Movember campaign has raised over $685 million, with $158 million of that amount funding men's health-related programs in Canada.
The final award, Outstanding Fundraising Professional, was given to Susan Horvath, president and CEO of the ROM (Royal Ontario Museum) Governors.
Her 26 years of fundraising leadership has included launching a $270 million campaign for Western University; the $416 million The Best Medicine Campaign for Mount Sinai Hospital; seven United Way Campaigns in London and Middlesex and a national major gifts campaign for the Canadian Cancer Society. A Queen Elizabeth II Diamond Jubilee Medal honouree, Horvath has also served as the Canadian Cancer Society's vice-president, philanthropy, president of the Mount Sinai Hospital Foundation and vice-president, external, at the Robarts Research Institute, among many other positions.        
The seven Philanthropy Award winners join a distinguished group of recipients dating back to 1995: Henry Jackman, Toronto Mayor John Tory, Arthur and Sonia Labatt, Emmanuelle Gattuso and Allan Slaight, and Brooke Harrison among them.
The AFP is an association of worldwide professionals dedicated to advancing philanthropy by enabling people and organizations to practice effective and ethical fundraising. The AFP fulfills this mission through education, training, mentoring, research, credentialing and advocacy.
adidas Yeezy Boost 350 V2 'Bred' Core Black-Solar Red For Sale