About 12 hours ago, 17-year-old Jonathan Korman was at his high school graduation ceremony, and a long after-party ensured that he wouldn't head to sleep until 3 a.m. But, while his friend snoozes away in the basement, Jonathan is up just after 8 a.m. and is ready to pick through his well-to-do neighbourhood's trash for a worthwhile cause.
Last September, Jonathan began a community service initiative, Bottles for Bread, where he and his family would go around their Richmond Hill neighbourhood, a suburb of Toronto, to collect empty liquor bottles and beer cans lying in recycling bins. He returns the bottles to The Beer Store in exchange for money and later this month, Jonathan will be writing a cheque to a local food bank. He estimates the total will be close to $400.
The project began when Jonathan says he felt unmotivated by the community service hours he was required to do for school, and wanted to feel more invigorated to help out. "I was just bored and didn't really get the whole purpose of crappy community service," Jonathan tells Samaritanmag. "We have to do 18 hours a year. I just didn't feel that any of the community service stuff [my school was] offering was substantial and actually helping out the community."
On this warm Friday morning, Jonathan heads out with his mother Susan; younger sister Jennifer, 12; and his Jack Russell terrier, Hershey. Wearing rubber work gloves and armed with two grocery carts packed with garbage bags, the family is on the hunt to obtain as many empty liquor bottles as they can find. The Kormans typically head out early in the morning, in a rush to beat the garbage trucks. They want to help out the environment, but disapprove of how the city's garbage system handles recycled goods. "Not all of [the bottles] are recycled," Jonathan says. "Some of them are dumped in landfills."
Susan says that since Jonathan began Bottles for Bread, many of their neighbours have started helping them out by placing their empty bottles on top of their blue bins or delivering their recycling straight to the family's front door. "At first, people were giving us looks like, 'What the hell are you doing?'" adds Jonathan. "But eventually, over the year, now people are helping out."
At certain points during the morning trek, they notice that specific houses have already left their bottles on top of the bins. "This is one of the party houses on the street," Susan says, approaching a bigger property with a wide driveway. "So they leave their bottles on top. Sometimes, we get cases left at our door."
Jonathan also notices this community spirit to help out his family. "At times when people are just outside doing whatever, this guy calls me over, and says, 'Hey, I've got three cases of beer. Here you go.' They're all empty, of course."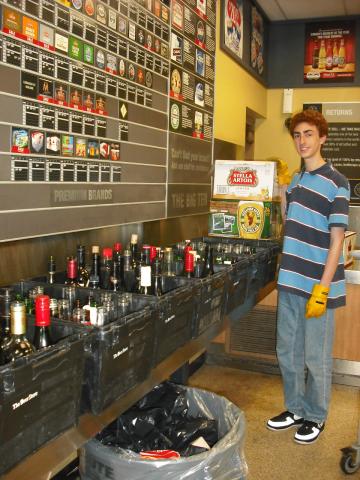 The Kormans have even been training Hershey to sniff out the liquor bottles to help them out. "Sometimes, we walk away and [Hershey] keeps jumping on the blue box, so we know there's got to be something there," Susan says (Truffles, the family's other terrier who was a regular on these weekly hunts, died from congestive heart failure earlier this month).
In the fall, the family only used one shopping cart and would normally go out on Thursday evenings, equipped with a flashlight. Walking around the chilly neighbourhood during the winter was quite unpleasant for the trio, Susan reminisces. "It's very slippery, dogs are pulling and people aren't drinking as much [in the winter]." Now that the weather has improved and Jonathan is out of school, they are heading out more often in the mornings to nearby areas where garbage is picked up on other days of the week.
Susan says that her children's involvement in volunteering their time for the greater good stemmed from their youth when they helped out the homeless community downtown after Blue Jay games. "We used to take [them] bottles of water [and] bottles of pop. The kids always used to ask why we always take so much, and I said because there's people that don't have much. And when we came out of the game, [for] all of the people that were begging, I didn't want to give them money. I explained to the kids that if [the homeless citizens] have an addiction, I'd rather give them something they can put to better use. When you teach a kid from a young age that you have to give to others, it just becomes ingrained."
On this morning however, to the family's surprise, bottles are scarce. "This is a really slow week," Susan laments. "Usually [the garbage bags] are overflowing. Maybe they're actually returning their bottles."
Even though the family only gets $6.20 in change from The Beer Store at the morning's end—usually the total amount is between $15 and $20—that is still enough to feed a family for more than a week, according to Susan and Jonathan.
Despite the slow morning, they do bump into people around their neighbourhood who comment on their act of charity. One man tells Jonathan that he feels uncomfortable with the family picking through his recycling ("I respect your privacy, sir," Jonathan tells him) while another lady praises Jonathan for his efforts, telling him "I congratulate you. I'll help you and save my bottles for you."
Jonathan plans on continuing his community service at Carleton University next year—although he won't be picking up beer bottles, which are forbidden from the university's residence floors. When Jonathan heads to school in Ottawa, Jennifer will take over her brother's post as the leader of Bottles for Bread. "I'm just going to do the same thing as we're doing this year," she tells Samaritanmag.
Yeezy Release Dates 2020