Winnipeggers in particular might be happy to receive this news, but it is Canada-wide. Well-known retailer 7-Eleven is offering a chance to pay any price for their signature Slurpee slushy soft-drink drink and support youth-for-youth international WE Charity at the same time.
(For 19 years, the top market for per capita Slurpee consumption in the world is Winnipeg, Manitoba, according to the Name Your Price promotional web page).
On Friday, Sept. 14, patrons at participating locations of the convenience store chain can purchase a large Slurpee in any flavour for any price they want [above a 50-cent minimum]. One hundred percent of the money raised from the sale of Slurpees on this date will be donated to Craig and Marc Kielburger's WE Charity (formerly known as Free The Children) so that students in Canadian schools can participate in the WE Schools program.
At present, according to a press release from 7-Eleven Canada, 1,747,000 students in 6,025 schools across Canada currently participate in this program, which is created to encourage and empower Canadian youth to make a difference in their home communities.
The money raised from the Sept. 14 Name Your Price Day is being earmarked specifically to help students at participating WE Schools to be able to attend the annual WE Day gatherings, that take place throughout the fall and spring each year, according to 7-Eleven, which is an official sponsor of WE Day.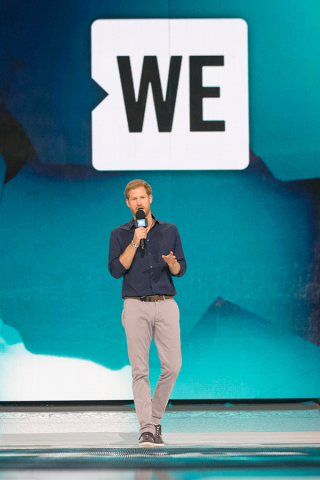 "Held in stadiums [or arenas] around the globe, WE Day brings together world renowned speakers and performers with millions of young people and families to celebrate and inspire incredible change. Students earn their ticket to WE Day through WE Schools, a yearlong educations program that engages and empowers young people to become compassionate leaders and active citizens," said the Name Your Price Day webpage on the 7-Eleven Canada website.
WE Day takes place in Toronto on Sept. 20, 2018, Oct. 12 in Edmonton, Oct. 30 in Winnipeg, Nov. 14 in Ottawa, Nov. 21 and 22 in Vancouver and Feb. 11 and 12, 2019 in Montreal. Gatherings for WE Day also take place in London, England; Garland, Texas; New York City, Los Angeles, Seattle and Chicago.
The WE organization was created in Canada and continues to be spearheaded by internationally recognized youth activist Craig Kielburger and his brother Marc. According to the charity's website, "WE Charity carries the power of WE globally, empowering communities to lift themselves out of poverty through our holistic, sustainable international development model, Free The Children's WE Villages. WE Charity is an international charity and educational partner. Our organization is unique among Canadian charities in that it operates collaborative programs both domestically and internationally."
WE Villages are currently located, or in development, in Kenya, India, Ecuador, Nicaragua. Haiti, Sierra Leone, China and Ethiopia.
7-Eleven began as a single convenience store [a new development at the time] in a small Texas town in the 1930s, in the midst of the Great Depression. The name 7-Eleven came about when the company began operating its stores from 7 a.m. to 11 p.m. The chain is also one of the first to begin operating stores 24 hours a day, seven days a week. The Slurpee was invented and began to be sold by 7-Eleven in 1965. The company began opening stores in Canada in 1969. Still based in Dallas, the company has more than 66,000 stores in 17 countries, including 11,800 in North America.
(Please support Samaritanmag's original journalism by making a PayPal contribution using the email info@samaritanmag.com so we can increase the amount of content and writers we hire. Samaritanmag is the anti-tabloid, covering good people trying to change bad things. Let's make this thing bigger than TMZ.)
Air Jordan 1