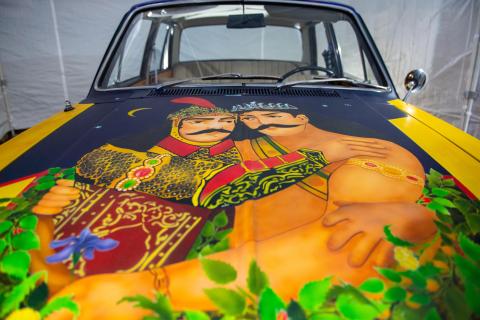 The inaugural PaykanArtCar Canadian tour, which celebrates contemporary Iranian artists and advocates for social change in Iran, has kicked off.
Iranian painter and queer activist Alireza Shojaian oversaw the decorating of a historic Paykan automobile for the exhibit and is using his platform "to shed light on the deadly abuse of LGBTQIA+ people in Iran," says the PaykanArtCar website.
The exhibit will be at Toronto's 3.19.27(2) gallery through Dec. 15. The arts organization creates space and gives a voice to artists from around the globe who are censored and attacked by oppressive regimes from around the globe.
Dates in Montreal, Edmonton and Vancouver are still to be announced.
"Since its inception, 3.19.27(2) has held a number of exhibitions highlighting at-risk artists," 3.19.27(2) executive director Kyle Beattie said on the gallery's website. "PaykanArtCar is undoubtedly the most important installation we will be exhibiting to date.
"The tragic and violent deaths of countless gay, lesbian, and transgender people need to end, and the only way to end these attacks is to confront the ones responsible. The best way of doing so is to act. Our way of acting is giving the stage to people who have lived to tell the story."
PaykanArtCar is a non-profit, non-partisan organization that unites the talents of contemporary Iranian artists with a beloved symbol of national pride — the Paykan automobile — to advocate for the restoration of human rights and dignity for all in Iran no matter their race, religion, gender or sexual orientation.
The Paykan automobile was first introduced by the Iran National Company in 1967 as the first fully manufactured Iranian car. It continued to be made until 2005.
PaykanArtCar acquired a Paykan vehicle that was once a gift from the Shah of Iran to Romanian leader Nicolae Ceausescu. The organization frequently commissions artists to paint the vehicle to spread messages of equality.
Shojaian used traditional characters from ancient Persian literature to challenge the contemporary mistreatment of the LGBTQIA+ community in Iran while painting the PaykanArtCar. His art was inspired by the Shahnameh, the Persian Book of Kings, and its interpretations via the tea-house or "Ghahvehkhaneh" culture of audio-visual storytelling, where Persian folk heroes arre depicted through a mixture of religious, traditional and cultural lenses for the Iranian population.
"A car once owned by a dictator today supports an artwork by an Iranian artist in exile — a project that gives voice to a minority silenced by a totalitarian regime," Shojaian wrote in an online statement.
Shojaian, who was born in Iran in 1988, paints pictures reflecting the queer history of western Asia. He had to leave his homeland five years ago after facing increased government pressure over his depictions of sexual identity. After spending several years in Beirut, the French embassy in Lebanon granted him an art residency and he now lives in Paris.