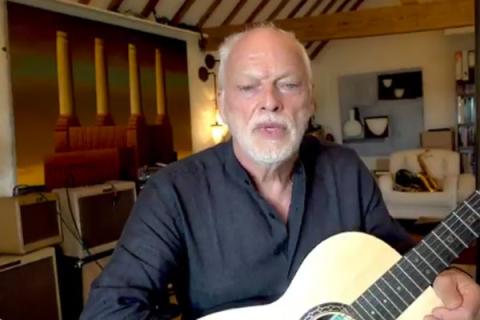 An auction of 120 guitars from the collection of former Pink Floyd guitarist David Gilmour has raised $21,490,750 USD ($28,349,415 CAD) with all proceeds going towards climate crisis-combating organization ClientEarth.
"The global climate crisis is the greatest challenge that humanity will ever face, and we are within a few years of the effects of global warming being irreversible," said Gilmour in a tweeted video the day before the auction. "We need a civilized world that goes on for all our grandchildren and beyond in which these guitars can be played and songs can be sung."
ClientEarth is a charitable organization made up of environmental lawyers and environmental experts "who are fighting against climate change and to protect nature and the environment." The organization both supports the strengthening and combats the weakening of environmental laws in a number of sectors, including clean air, justice and wildlife. Their oceans portfolio includes work in the area of sustainable seafood and recommendations to the European Union on fishing controls. In the area of chemical usage, ClientEarth has weighed in on things like hormone-harming chemicals as well as getting certain chemicals used in homes labeled "dangerous."
"This is a truly humbling and extraordinary gift, which goes beyond our wildest expectations. It's difficult to express just how deeply grateful we are to David for choosing ClientEarth as the beneficiary of this historic auction," said ClientEarth's CEO James Thornton in a statement. "The law is one of the most powerful tools we have to tackle the world's increasing environmental problems. This gift is a phenomenal boost to our work using the law to tackle climate change and protect nature. It will allow us to play an even greater role in addressing the climate crisis and securing a healthy planet for future generations."
The highest selling item at the auction was Gilmour's heavily modified "Black Strat" Fender Stratocaster which sold for $3.9 million USD ($5.14 million CAD). The guitar was used prominently on Pink Floyd albums Wish You Were Here and on one of the best-selling albums of all-time, The Dark Side of the Moon. Gilmour also used the guitar when Pink Floyd performed at the Live 8 charity concert in 2005 which was broadcast across 182 different television networks around the world to an estimated audience of up to two billion people.
Other highlight guitars that were part of the auction included the 1957 "Ex-Homer Haynes" Stratocaster which featured gold-plated hardware and custom "Lake Placid Blue" colouring, and the Candy Apple Red 1984 Stratocaster 57V which Gilmour used during recording and touring of the Pink Floyd albums A Momentary Lapse of Reason and The Division Bell.
Watch David Gilmour's black strat guitar going up for auction
THE SNEAKER BULLETIN