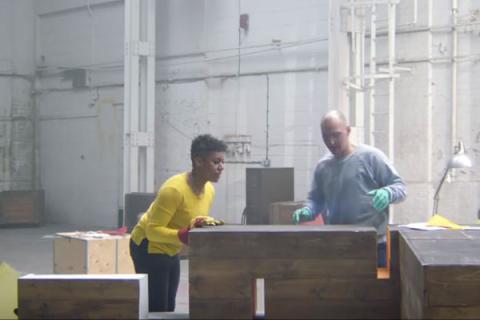 If we all sat down and had a beer together we might better understand our differences. That's the premise behind beermakers Heineken U.K.'s newest promotional campaign and social experiment "Worlds Apart."
Heineken says the purpose is to "promote openness as a value that helps break through the barriers that divide us," to specifically create that engagement.
The beermakers have also teamed up with The Human Library as part of the Worlds Apart campaign, to further this goal.
The innovative Human Library is a library of sorts. A library of human "books." So if you went to a Human Library event you could read (encounter/speak with) a "book" that was a refugee, or deafblind, or homeless or a body modification practitioner. The organization says its goal is "to build spaces in the community for personal dialogue about issues that are often difficult, challenging and stigmatizing."
In the Worlds Apart campaign video, Heineken puts three pairs of people into a room — a feminist and an anti-feminist; an environmentalist and a climate change denier; and a man and a transgender woman who don't agree on identity. They're then presented with a series of challenges.
Each pair has to perform physical tasks together to build a makeshift bar and are then made aware that the person they've just partnered with holds ideological views that are opposite of theirs. The pairs are then given the choice: they can sit at the bar they just made together and discuss their differences over a beer... or they can leave.
Everyone chooses the option of having a beer and talking.
"I've been brought up in a world where everything is black and white, but life isn't black and white," says the anti-transgender participant, who then asks his partner for their phone number, adding, "I'll have to tell my girlfriend I'm texting another girl."
The non-feminist kicks of their pair's chat with a cheer of "Smash the patriarchy!"
And the environmentalist starts their conversation saying, "Even if you wanted to convince people about your point of view, the productive thing to do would be to sit down, have a beer."
This is met by an emphatic "Engage! Engage!" by the climate change denier.
Heineken reps say it's not about getting everyone to agree on everything, so much as it's about starting a conversation.
"Open Your World is the first-time Heineken has launched a campaign of this nature in the U.K.," said Cindy Tervoort, Heineken UK's head of marketing, in a release. "Joining forces with The Human Library is a way for us to inspire more people to focus on the things that unite us rather than divide us. We don't all support the same football team, listen to the same music or share the same taste in clothes. We know we're never going to agree on everything but there will also be common ground. Whether it's 1950, 2017 or 2027, being open lets us get more out of life. It makes the world a more interesting place. And it makes every story worth listening to."
Watch Heineken's Worlds Apart #OpenYourWorld ad
nike