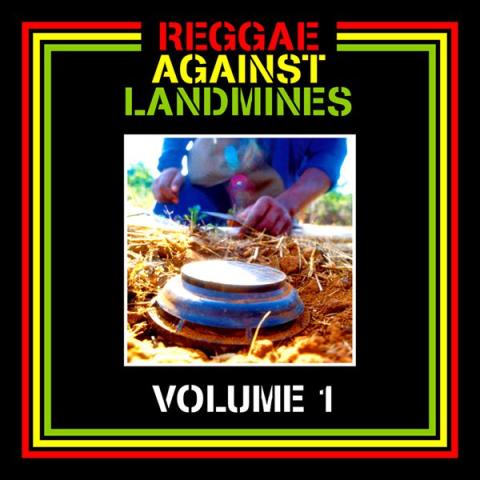 A Toronto-based reggae record label is joining such musical activists as Emmylou Harris, Paul McCartney, and Bruce Cockburn in their attempts to transform Earth into a landmine–free planet. Turning its attention towards atrocities in Africa, Ohm Grown Records and Equal Distribution has released a new compilation,Reggae Against Landmines – Volume 1, to raise funds for MgM (Menschen gegen Minen/People against Landmines), a Germany-based humanitarian non-profit landmine clearance organization.
The digital LP features 10 tracks from international and local reggae artists including a duet with Freedom Fighters and the Wailers, Bob Marley's original band.
Other participants contributing all-originals include Odel & the Govament; the Mighty Howard; Roots By Nature; Madi Simmons; Progress; Friendlyness & the Human Rights with Tréson; Anayah Roots meets Mystical Powa; Injham featuring Zion Irie and Instrument Of Jah.
Reggae Against Landmines compiler Ras Allover said in a statement that the album, which is available on iTunes, Napster, Amazon and eMusic among others, is mandated to "make sure that as much money as possible gets channeled to the actual landmine clearance operations."
Active in Africa for the past 14 years, MgM's main focus is clearing landmines in Angola, where more than 15 million active landmines still remain, representing 50% of all landmine casualties.
A second volume is planned.
"We are so grateful to all the conscious reggae artists that have donated tracks for our first release and I see many of them actively promoting the landmine issue as well which is equally as important," states Allover. " Ohm Grown Records will just continue putting out more releases of Reggae Against Landmines as long as there are landmines left to clear."
Reggae Against Landmines is available from the following sites:
WORLDWIDE:
http://itunes.apple.com/en/album/reggae-against-landmines-volume/id426590572
http://www.junodownload.com/products/1723845-02.htm
http://www.amazon.com/Reggae-Against-Landmines-Volume-1/dp/B004T6CB8A
http://www.djdownload.com/mp3-detail/Various/Reggae+Against+Landmines+Volume+1/Ohm+Grown/3702888
http://www.discogs.com/mp3/Various-Reggae-Against-Landmines-Volume-1/1723845
UNITED KINGDOM:
http://www.amazon.co.uk/Reggae-Against-Landmines-Volume-1/dp/B004T6YTGM
http://www.jamster.co.uk/fw/goto/music/album/doc-12309693
GERMANY:
http://www.amazon.de/Reggae-Against-Landmines-Volume-1/dp/B004T7AT0G/
FRANCE:
http://www.amazon.fr/Reggae-Against-Landmines-Volume-1/dp/B004T6NCWO
JAPAN:
http://www.amazon.co.jp/Reggae-Against-Landmines-Volume-1/dp/B004T6IXFK
NORWAY:
http://www.jamba.no/jmp/goto/music/album/details/albumId/12309693
ICELAND:
http://www.tonlist.is/Music/Album/711609/ymsir/reggae_against_landmines_-_volume_1/
Air Jordan 1 Retro High OG "Board of Governors" White/Black-Royal Blue