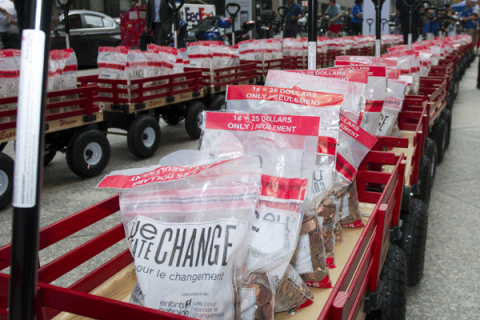 Free The Children has many programs to engage young people to fundraise and raise awareness for global issues, but We Create Change must've been particularly fun — scrounging around collecting seemingly worthless pennies.  And boy did they add up.
All school year, Canadian students from more than 3000 schools collected 140 million pennies ($1.4 million) as part of a penny drive challenge that just came to an end.
According to Free The Children, the sum collected from the We Create Change campaign, in conjunction with the proceeds from sales of Me to We's Water Rafiki Friend Chain, online donations, and We Walk 4Water, has enabled Free The Children to reach its year-long Water Initiative goal of providing 100,000 people around the world with permanent sources of clean water for life.
When the Royal Canadian Mint stopped producing the one-cent piece last May, Free The Children and RBC Bank came up with the We Create Change penny drive, which asked kids to collect pennies in $25 increments, toss them into sturdy plastic bags and drop them off to an RBC location. According to Free The Children, $25 is all that is needed to provide one person with clean water for life.
In February of this year, 70 million pennies ($700,000) had been collected. This past Thursday (June 27), there was a wagon/penny parade down Toronto's Bay St. with about 100 youth that participated in the penny drive.  Following that, Free The Children co-founder Marc Kielburger announced the final tally of pennies – the impressive figure of 140 million pennies.
Free The Children is an international kids-helping-kids charity that was founded in 1995 by human rights advocate Craig Kielburger when he was just 12.
Since then, Free The Children has become one of the largest philanthropic youth movements in the world, resulting in programming and building projects in more than 45 countries; the building of more than 650 schools or school rooms; 30,000 women becoming economically self-sufficient; providing $16 million worth of medical supplies globally; a million people with clean water, heath care and sanitation; and 55,000 children with education daily.
Nike WMNS Air Force 1 Shadow White/Hydrogen Blue-Purple