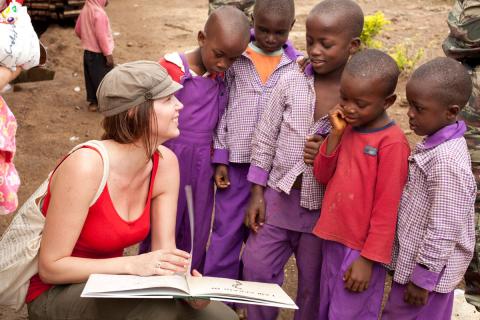 From NASCAR drivers to NHL players and tons of musicians, Vancouver fashion designer and philanthropist Treana Peake has been able to gather hundreds of signed items to auction off for her Obakki Foundation, which raises money to provide clean water in South Sudan.  The auction runs from November 1 to 14 on eBay.
"One-hundred percent of what we raise goes directly to our cause," says Peake of this auction and all Obakki's fundraising efforts. "We do not take any administration fees. Every penny goes into the ground."
The Rainmaker Auction, as it has been called, features signed guitars by Ozzy Osbourne, Bob Seger, Garth Brooks and Taylor Swift; a full-size poster sized by Beyonce; signed Tiger Woods game glove hat and flag; a Coldplay photograph signed by all of the members; a Journey drum skin signed by all the current members; VIP concert tickets and backstage passes for Lady Antebellum's upcoming Vancouver show; and multiple Nickelback VIP concert package and package passes for various stops on the band's North America tour.
New auction items will be released daily.
Peake is the founder and creative director of Obakki, a luxury fashion brand that focuses on urban, easy-to-wear clothing for men and women. But almost her entire adult life she has been involved with philanthropy. She co-founded another charity, ICA Canada in the mid-1990s and in 1999 launched The Obakki Foundation.
"I just saw an opportunity to use Obakki — and the name that was growing from the brand-marketing-fashion standpoint — as a way to generate more exposure and bring more awareness to our projects," she tells www.samaritanmag.com.
"I have been working in parts of Africa for 17 years, mainly Cameroon but most recently in Sudan where we saw an extreme need for water.  We immediately started working and drilled 100 wells within 3 months.  I traveled to South Sudan [last] December with my husband, Ryan Peake [of the rock band Nickelback], where we personally checked up on our well sites and had multiple meetings with villages elders, local NGO's, GOSS and SPLA leaders.  The project was quite successful and quick impact, which I love, and we have since committed to drilling another 200 wells in the next and upcoming dry season. "
She recently returned from another trip to Africa to check on the projects.
The  Obakki Foundation is currently working in Africa to improve health, education and the basic needs of life. In addition to completing the 100 wells, construction has begun on 10 schools in Cameroon as well as the implementation of health, nutritional and agriculture programs for 130 children in three orphanages.
Air Jordan 1