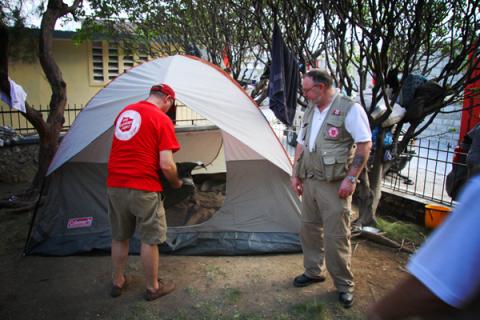 The Salvation Army has launched a Canadian campaign to raise money to buy 1000 tents for the survivors of last month's earthquake in Haiti. Just drop into one of  thrift stores and make a donation or contribute online at www.tents4haiti.ca. 
All of the money collected will go directly towards purchasing tents that serve as temporary shelter.  Each participating Salvation Army Thrift Store has set a minimum of $500, enough to buy at least one tent.
"Right now, the focus of our work is shifting and the Tents for Haiti program is a unique way that Canadians can stay involved," commissioner William Francis, territorial commander for The Salvation Army in Canada and Bermuda, said in a press statement. "We continue to serve immediate needs, but we're also beginning to address longer-term issues, like housing, especially in the lead-up to Haiti's rainy season this spring."
According to figures provided by the Salvation Army, there are more than 1.2 million people homeless and more than 200,000 homes that are severely damaged or destroyed. The Salvation Army has signed an agreement with the United Nations to provide care to 20,000 Haitians and part of that agreement is to purchase tents. They will be used at relief camps in Port-au-Prince, Jacmel and surrounding areas.
There are approximately 2,900 Coleman tents on the ground right now, and The Salvation Army is in the process of sending larger, UN-approved, tents that can house a small family or group of four. The organization's international body is also starting to provide shelter kits, which include materials such as wood, nails, and siding that can be used to erect more permanent shelters.
The United Nations designated The Salvation Army as a "lead agency" for Haiti's disaster relief work. Since then, the organization has set-up a number of operations providing basic care, including housing, clean water, medical services and basic hygiene products.
"Our work in Haiti has never stopped," said commissioner Francis. "On the same day that the earthquake struck, The Salvation Army began providing disaster relief services. We've worked in country for 60 years, and we'll continue to serve Haiti through its rebuilding and redevelopment."
To date, The Salvation Army has $5 million in donations from the Canadian public, and more than $200,000 in donations were raised through the Army's Text-to-Donate program.
General donations to The Salvation Army's Haiti Earthquake Relief Fund can be made by visiting www.tents4haiti.ca, calling 1-800-SAL-ARMY (725-2769), or by mailing your donation to The Salvation Army Territorial Headquarters, Canada and Bermuda, 2 Overlea Blvd., Toronto, ON M4H 1P4.
The Salvation Army is an international Christian organization that began its work in Canada in 1882 and has grown to become the largest non-governmental direct provider of social services in the country. The Salvation Army operates in 400 communities across Canada and 119 countries around the world.
Nike SB