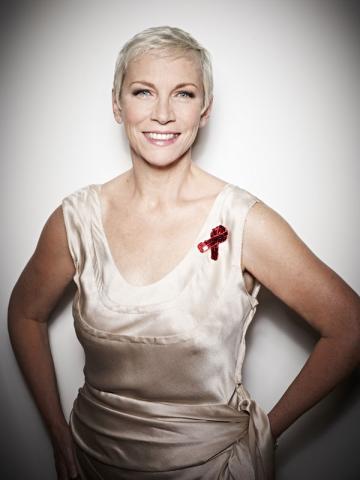 Annie Lennox, who appeared in yesterday's Olympic closing ceremony in London, has been announced as the headliner for the second annual Hope Rising! A Benefit Concert for the Stephen Lewis Foundation Nov. 7 at Toronto's Roy Thomson Hall.
The singer-songwriter, who rose to fame with the Eurythmics, has long been involved in humanitarian causes, among them Amnesty International, Greenpeace and HIV/AIDS prevention. Her appearance at Hope Rising! marks her first show on Canadian soil since 2007.
Appearing for the second year in a row, Grammy-winning artist Angelique Kidjo is also on the bill, which is hosted by CBC's Jian Ghomeshi.
The Stephen Lewis Foundation (SLF) works with community-level organizations that are turning the tide of HIV/AIDS in Africa by providing care and support to women, children orphaned by AIDS, grandmothers, and people living with HIV and AIDS. Since 2003, SLF has funded over 700 initiatives, partnering with over 300 community-based organizations in the 15 countries that have been hardest hit by the AIDS pandemic in Africa.
"Hope Rising! is an opportunity to recognize the extraordinary triumph of the human spirit over adversity – alongside illustrious artists who share our passionate support for the cause," SLF executive director  Ilana Landsberg-Lewis said in a press statement.
This year's fundraiser, presented by CIBC, is a celebration of the pivotal role of African women as they overcome adversity and help bring about positive developments in controlling the spread of AIDS.
"As a passionate AIDS activist, I'm delighted to be performing at Hope Rising!" Lennox said in her press statement. "I share the conviction of the Stephen Lewis Foundation that community-based organizations in Africa, and particularly the women who are at the heart of the grassroots response, are playing a critical role in turning the tide of AIDS. I look forward to sharing the evening with African grandmothers, Angelique, Stephen, and other friends to shine a celebratory spotlight on the powerful work being done in Africa, and the powerful message of hope it brings all of us!"
 

The inaugural Hope Rising! benefit concert last May at Toronto's Sony Centre for the Performing Arts featured performances by such acts as Kidjo, Alicia Keys, K'naan and Rufus Wainwright and raised more than half-a-million dollars.
Tickets for the 2012 Hope Rising! go on sale August 20 at 10 a.m. EST and are available at www.roythomson.com, by phone at 416.872.4255, or in person at Roy Thomson Hall box office. Concert ticket prices start at $59.95. 
 

"CIBC is very proud to present Hope Rising! for the second year in a row," added Stephen Forbes, CIBC's executive vice-president of marketing, communications & public affairs. "This is an event that brings world class musicians together to offer hope to people who are living with HIV/AIDS and raise money that is vital to the survival of many families and communities in Africa."
 

Lead sponsor is Aeroplan's Beyond Miles Program. Media sponsors include The Globe & Mail, NOW Magazine and CHFI. The International Alliance of Theatrical Stage Employees Local 85; UNITE HERE Local 75; Ontario Public Service Employees Union; the United Steelworkers, and the Ontario CUPE are solidarity sponsors. Contributing sponsors include Naked Creative; Presidential Gourmet; Shangri-La Toronto; Starshot; Eat My Words; StudioFeed; and JT Printing.
 
Nike