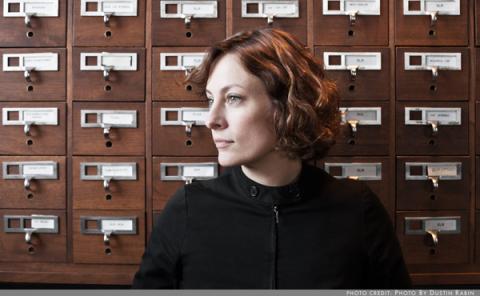 Singer-songwriter Sarah Harmer, and co-founder of Protecting Escarpment Rural Land, is proof that a bunch of determined civilians can successfully battle a major company, Nelson Aggregate.
PERL's executive committee and hundreds of members have been on a mission to protect Mount Nemo in Burlington, Ontario's Niagara Escarpment, a region designated by the United Nations as a "world biosphere reserve." The conservation area, popular for rock climbing, is filled with limestone boulders, wetlands, ancient cedars and endangered butternut trees.
When limestone quarry owner Nelson Aggregate put in a request to expand its operation by 80 hectares, the fight began.
"We are definitely in the final chapter of the saga, which has been five years in the works," Harmer tells Samaritanmag.
"Every level of government — the city and the region and the Niagara Escarpment Commission — has voted against this quarry application, which is amazing. The science is definitely saying that it needs to be protected. Now, we're just petitioning the cabinet Ontario Legislature. They have the final word. I was just at Queen's Park meeting with an MPP [Kevin Flynn – Oakville] to get a petition to government to get them to re-designate these lands. So it's not over, but it's definitely looking good."
Harmer wrote a song called "Escarpment Blues" on her 2005 album, I'm A Mountain, and then embarked on the I Love The Escarpment Tour to support the organization, playing communities around the area and speaking about PERL.  A documentary of the tour, also titled Escarpment Blues, was released in 2006 and won a JUNO Award for best music DVD.
She says PERL saw results because it got in early on the process and was able to provide credible information to back its case.
"The odds were definitely not in our favour because the aggregate industry — except for a couple of minor incidents — never had an application denied," Harmer says.  "They've gotten incredible favouritism.
"When I talked with environmentalists about the issue, right off the bat they were like, 'These are the big guys. Aggregates are the hardest thing to stop.'  So that was daunting, but once we started to really investigate it and hire our own water scientists and biologists and do our individual evaluations we realized, 'No, we're right — the science is going to say that this land needs to be protected. This is a bad idea, not just because we don't want it here, but because it shouldn't be here.'
"We just had to do it step by step by step by step and really develop the science and get all the government agencies to recognize it and that's been a five-year process."
For more information, go to www.perlofburlington.org
Air Jordan 1 Mid "What The Multi-Color" For Sale