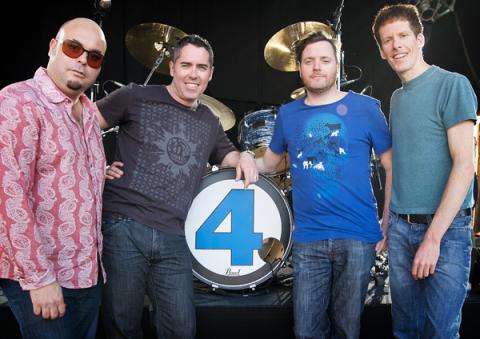 Green Music Group was created earlier this year to set green guidelines and create widespread environmental change within the music industry.
GMG is a coalition of musicians, music industry representatives and fans that was the brainchild of Andrew Gardner, singer-guitarist with American band Guster. It's a project of the non-profit organization Reverb that aims to facilitate large-scale greening of the music community through touring, venue and label standards, resource development, green grants, mentoring, viral videos and public service campaigns.
GMG launched with a Jan. 30 cocktail party that featured performances by members of Maroon 5, Dave Matthews Band, The Roots and Guster. Those groups were founding members of GMG along with Linkin Park, Willie Nelson, Sheryl Crow, Bonnie Raitt and Canada's Barenaked Ladies.
"Their goal is to green the rock and roll touring industry," Barenaked Ladies singer/guitarist Ed Robertson, who's a friend of Gardner, says of GMG. "I'm generalizing here, but you have a bunch of left-leaning people who are socially conscious and want to have less of a footprint on the planet that we live on.
"So we started instituting, with their help, all kinds of things — from recycling at venues to not using plastic water bottles and using reusable water bottles and using actual dinnerware and silverware and not throwaway plates and cutlery. We're running biodiesel fuels on our buses.
"When we're doing a full-on tour with 50 people pulling into a venue every day with trucks, you see the refuse that you leave behind. We were able to make a lot of changes to live our professional lives more like we live our private lives."
Barenaked Ladies also sell eco-friendly merchandise and give non-profit environmental groups the opportunity to have information tables at their shows. Their CDs are packaged in post-consumer 100-per cent recyclable cases. The band also has a web site (http://www.barenakedplanet.org) called Barenaked Planet that outlines its environmental initiatives.
Six American concert venues —American Airlines Arena in Miami, Brooklyn Bowl in New York City, Comcast Center in Mansfield, Mass., Shoreline Amphitheatre in Mountain View, Calif., Verizon Wireless Music Center in Noblesville, Ind. and Wolf Trap National Park for the Performing Arts in Vienna, Va. — are also GMG members. So are Warner Music Group and Brushfire Records.
GMG has also partnered with several non-profit organizations working within the environmental and music communities, including Sierra Club, Oxfam America, Union of Concerned Scientists, Hip Hop Caucus, Climate Counts, DoSomething.org, Headcount, Sustainable Biodiesel Alliance, StopGlobalWarming.org and Music for Relief.
GMG is challenging music fans who join its online community to make eco-friendly changes in their lives and is offering chances to win prizes for doing so. People can sign up by visiting the GMG web site. (http://greenmusicgroup.org)
FASHION NEWS