Rock fans raised more than 700 winter clothing items for Montreal's homeless on Feb. 25, including 259 shirts, 90 sweaters and 107 pants. Everything collected at the third annual Blankfest Quebec went to Old Brewery Mission, established in 1890.
"Montreal's winter is really cold and harsh," event organizer Jon Asher tells Samaritanmag. "I find that a majority of fundraisers are done during the holidays and that the after months, in January, February and March, are truly when help is needed most for those less fortunate. By raising blankets and winter clothing we can at least do our part as a community and give them warmth."
Over the three years, Blankfest Quebec's has brought in nearly 2,000 winter clothing items.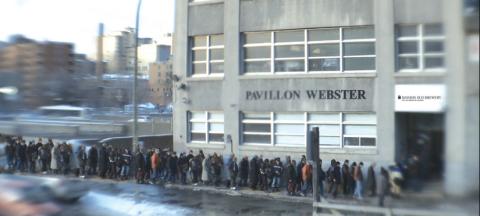 Asher writes in the press release that he launched Blankfest Quebec after he read about his friend, New York City indie rock veteran Kenn Rowell of The Baghdaddios, who founded Blankfest in 1997 in NYC and has been organizing the annual fundraiser for the past 13 years.
Rowell says Blankfest NYC has raised more than 6,000 total donations that have been distributed to the homeless in the New York City area and has inspired similar efforts in New Jersey, Manhattan and Nottingham, UK.
Rowell's band was the special guest performer at 2011 Blankfest Quebec, which was held at Katacombes. The bill also included Montreal repeat supporters Vinyl Hero, Emery Street, The In n Outs, along with first-timers Kill Matilda from Vancouver. The breakdown of the 714 items includes 259 shirts, 90 sweaters, 107 pants, five pairs of socks, 59 winter coats, 26 blankets, 66 toques, 25 sets of mittens/gloves, 47 scarves and 30 other.
The Montreal's winter is known for temperatures well below zero and those who are homeless run the risk of frostbite and possible death due to overexposure.
The Old Brewery Mission has been operating for more than 120 years and is the largest network of shelters for homeless men in Quebec and the largest resource for homeless women in Canada. It provides safe nighttime refuge to more than 125,000 homeless individuals and more than 338,000 meals per year, as well as transition and counselling services.
According to the press release, "Thanks to the OBM's transition programs, more than 3,000 people requested emergency assistance in the past year and more than 629 of these people no longer live in the streets."
Air Jordan 1 Retro High OG "UNC Patent" Obsidian/Blue Chill-White For Sale