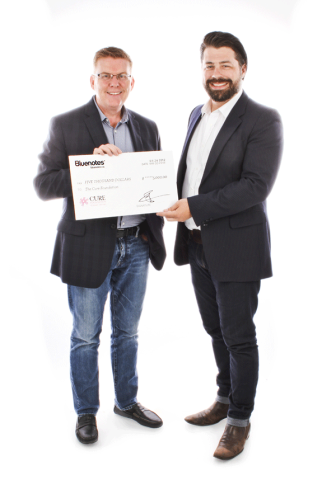 Bluenotes, the Canadian denim retailer geared towards teens and young adults, has long practiced corporate social responsibility. Established in 1984, the company which now operates 120 stores nationwide has been a major sponsor for Kids Help Phone, raising more than $1.5 million via various sales initiatives, most recently a Simple Plan-designed t-shirt and True Colors anti-bullying one emblazoned with artist names such as Hedley and Lights.
Bluenotes current philanthropic campaign doesn't have any musician associated with it, but it is encouraging youth involvement: Yesterday was National Denim Day, as declared and devised by the Cure Foundation, which fights breast cancer. Since 1996, Cure has helped raise $25 million, it states on its web site, though this annual fundraising campaign which involves multiple corporate partners. For the second year in a row, Bluenotes is one of them.
From now until May 19, the company will donate a portion of proceeds from each denim long-bottoms purchase in its Canadian stores and online in North America.  The jeans, which come in traditional blue denim and a rainbow of colours for girls and guys, range in price from $20 to $39.50 (CDN).
"Being Canada's denim retailer, we thought it was a good fit and obviously breast cancer is something that touches each and every one of us," Bluenotes director of marketing Royal Nasager tells Samaritanmag. "The funds go to research and early detection — so it's a bit of a different take on breast cancer fundraising and awareness — and obviously an opportunity for us to leverage our association with denim to help get the word out about the Cure Foundation. I don't think it's been on people's radar for the most part."
This week, however, breast cancer is on many people's radar, as actress Angelina Jolie wrote an op-ed in the New York Times revealing she had recently undergone a double mastectomy. Mainstream news and social media has picked up on her personal story, citing her bravery and honesty and hoping it will allow other women whose families have a history of breast cancer to get tested for the gene and make an informed decision about if such life-altering surgery is right for them.
"I carry a 'faulty' gene, BRCA1, which sharply increases my risk of developing breast cancer and ovarian cancer," wrote Jolie whose mother passed away at age 56 from ovarian cancer. "My doctors estimated that I had an 87 percent risk of breast cancer and a 50 percent risk of ovarian cancer, although the risk is different in the case of each woman… Once I knew that this was my reality, I decided to be proactive and to minimize the risk as much I could. I made a decision to have a preventive double mastectomy."
Bluenotes' clientele and staff are primarily young people, teens to early 20s.  Do young people care about breast cancer if they haven't been touched by it? It certainly doesn't have the same urgency as Kids Help Phone — and there are no high-profile Canadian musicians onboard for that cool cachet.  How does Bluenotes impress upon them, especially young women, the importance of it and getting checked — and purchasing denim to support Cure?
"We have a very engaged team across the country of store associates," explains Nasager. "To your point, something like a Kids Help Phone is a very good natural fit and they are ultimately advocates, but also end-users, so that one's a no- brainer in terms of an association. But for this one it's kind of two-fold.
"I'm continually impressed by the levels of awareness and engagement in all kinds of charitable endeavours and organizations, breast cancer specifically — even if they're not touched, I think we have a very aware group of store associates and, from a fit perspective, if they haven't been touched, and they don't have the awareness level, even better for us to leverage the footprint that we have in 120 stores in all major markets across the country.
"We have a very significant social footprint.  So, for me, I love raising funds for these organizations and we really only have two that we work with — Cure and Kids Help Phone — so the dollars are important, but as important or even more important is the fostering that we have in leveraging that to connect not only with our customers but with our associates as well. So if they don't know about it, this is a very good opportunity for us to raise the awareness level."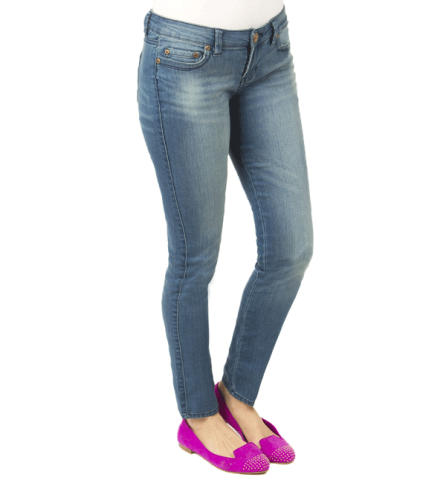 Bluenotes, which began as Thrifty's in 1984 then rebranded after it was purchased by American Eagle Outfitters of Dynex in 2000, has been owned since 2004 by Canadian company YM. Three years later, Bluenotes became involved with Kids Help Phone and soon after introduced a gift box campaign at Christmas time in 1999, donating $1 from each sale to the 24/7 confidential counceling line for kids and teens.
"I started with Bluenotes a couple of years ago," says Nasager.  "I'd grown up in Canada and I was aware of the brand and knew what they did and so I had a bit of a history or background coming in, but I had zero awareness of the commitment to philanthropy and giving back. It's part of the DNA of our organization and parent company. It's just a cultural thing here.
"And one of the things that I wanted to make my mandate coming into this as a marketing director is, again, leverage the platform that we have, which is thousands of super-engaged store associates, in 120 stores across the country, and actually use it as a platform to raise awareness for these great causes.
"I love the modesty — and it's genuine — and the humility that's imbued in the approach we take," he adds. "In the last 15 years before my coming on — and it's good coming into an organization that's not opportunistic; they do it for the right reasons not for the strategic partnerships or media or whatever the case may be. — there wasn't a single [news] piece on Bluenotes having done this.
"When I came in, we'd been working with Kids Help Phone for almost 15 years, giving them $1.5 million or better, and we hadn't spoken about it once. I admire the modesty, but it's a big opportunity and potentially disservice to some of those charitable partners that we work with because again we have a big opportunity to engage our partners and associates and spread the word."
Last year, for National Denim Day — and week — Bluenotes also gave away 10,000 pairs of jeans to local charities, as selected by the store associates and managers. This year, the company will top up the final tally raised by customers who purchase the denim long-bottoms.
"Again, it's a great event and we will always be committed to the awareness piece and the fundraising for the Cure Foundation," says Nasager.  "Year to year if there are additional opportunities for us to do incremental work for other organizations, leveraging Denim Day we will. Again it's just a DNA thing here."
Air Jordan 1