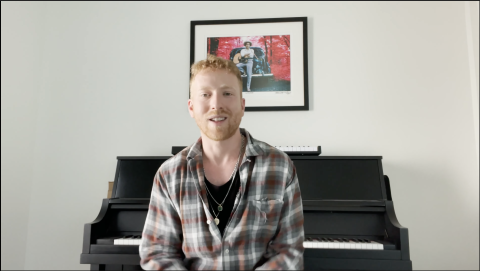 Canadian music education charity MusiCounts enlisted "If The World Was Ending" hitmaker JP Saxe to  announced the recipients of their $500,000 donation to 33 different community organizations across Canada from the TD Community Music Program.
In a video posted to YouTube, the Juno Award winning singer-songwriter preceded the "big news," by saying "first I'd like to talk a bit about how important music education is for young people, especially right now. Music education can help young people find connection, celebrate their identity and cope with the stresses of growing up in a global epidemic.
"Whenever people ask me in the States why there are so many musicians coming out of Toronto and Canada, I say it's because of arts funding," recounted Saxe, who is based in Los Angeles.  "It's so mysterious — you prioritize music for kids, and then you get a bunch of musicians coming out of Canada."
As per MusiCounts' mandate, the money will be used to purchase new instruments, equipment and resources for communities lacking proper gear.
The charitable arm of The Canadian Academy of Recording Arts and Sciences (CARAS) and The Juno Awards, MusiCounts' website says their mission is to "make music education, inclusive, sustainable, and accessible for youth across Canada."
Partnered with TD Bank, the grant program provides up to $25,000 to community centres and organizations.
Saxe added that some of the 33 recipients include "a couple in my hometown of Toronto: The HopeWorks Connection will use their funds for their African Caribbean drum program. The PACT Urban Peace Program will buy instruments for jam sessions and 2-Spirited People of the 1st Nations organizations who will be using the funds for drum making workshops and the drum circle programming."
Over its history, MusiCounts has supported 247 organizations across Canada by donating over $3.6 million in instruments and equipment, according to a press release. 
MusiCounts hopes that the grants will help creativity thrive in BIPOC youth across Canada. According to MusiCounts, over 60% of the 33 organizations receiving the grant are supporting significant numbers of BIPOC youth. Over 40% of the organizations that MusiCounts donated money to have no musical instruments or equipment prior to the grant.
"The unprecedented volume of requests MusiCounts received for the MusiCounts TD Community Music Program this year demonstrates just how important it is for youth to make music within their communities," says MusiCounts executive director Kristy Fletcher in a press statement. "It's a way for young people to connect to their culture, to each other, and ultimately to themselves."
Out west, the African Friendship Society in Vancouver, BC will use their grant to buy instruments and equipment for the Sounds of Africa program, which teaches about African music styles and history with the goal of empowering Black youth and building community identity.
The grant also reaches as far as the Arctic Circle with a donation to the Norman Wells Community Library in Norman Wells, NWT, which MusiCounts says will use the funds to buy guitars, ukuleles, keyboards, hand-drums, and fiddles. The goal is to build the first music program in the community and surrounding area.
"On behalf of MusiCounts, congratulations to all of the community organizations receiving MusiCounts TD Community Music Program instrument grants this year, and thank you to TD for supporting this critical initiative," added Fletcher.
The list of community organizations receiving the MusiCounts TD Community Music Program grant are below:
Alberta
High Level Native Friendship Centre, High Level
Pacekids Programs, Calgary
British Columbia
African Friendship Society, Vancouver
Afro Van Connect Society, Vancouver
Dze L K'ant Friendship Centre Society, Houston
Ridge Meadows Association for Community Living, Maple Ridge
Manitoba
African Communities of Manitoba Inc. (ACOMI), Winnipeg
Graffiti Arts Programming Inc., Winnipeg
Indigenous Family Centre Inc., Winnipeg
Options Pathways & Transitions, Winnipeg
Riverton & District Friendship Centre, Riverton
New Brunswick
Battle of the Arts NB, Fredericton
Boys and Girls Club of Greater Saint John, Saint John
Newfoundland & Labrador
Easter Seals Newfoundland and Labrador Inc., St. John's, NL
MICG Recreation Dept, Makkovik, NL
Northwest Territories
Ingamo Hall Friendship Centre, Inuvik
Norman Wells Community Library, Norman Wells
Nova Scotia
Music In Communities Cooperative Ltd., Canning
PAC Autism Nova Scotia Society (Autism Nova Scotia), Halifax
St. George's YouthNet, Halifax
Through the Years Day Care & Community Centre, Hubbards
Nunavut
Iqaluit Music Society, Iqaluit
Ontario
Afiwi Groove School, Ajax
Canadian Foundation for the Prevention of Family Violence (operating as the PACT Urban Peace Program), Toronto
Crouch Neighbourhood Resource Center, London
Georgian Shores Elementary Concert Band, Midland
The HopeWorks Connection, Toronto
2-Spirited People of the 1st Nations, Toronto
Quebec
Centre d'amitié autochtone de Lanaudière, Joliette
Centre de pédiatrie sociale Coeur des Laurentides, Sainte-Agathe-des-Monts
Saskatchewan
Kikinahk Friendship Centre Inc., La Ronge
Mistawasis Nehiyawak Community Studio Program, Leask
Yukon
Boys and Girls Club of Yukon, Whitehorse