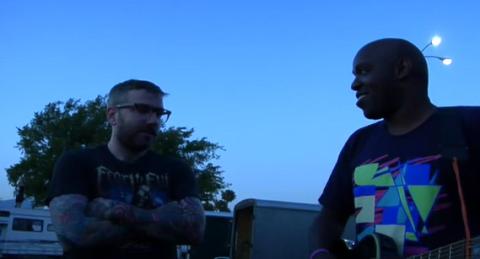 Rapper Shad and singer Dallas Green of Alexisonfire and City and Colour have selected Rob Dyer's Skate4Cancer charity as the recipient of all profits from the sale of their new collaboration, Shad & Dallas:Two Songs.
"I'm inspired by the integrity and compassion that drives that organization," Shad tells Samaritanmag about Skate4Cancer. "I've known Rob for a while and he blows my mind. I hope the profits from this release can help grow s4c's work."
The two-song EP features the brand new song "Live Forever," co-written by the pair one afternoon in the studio, as well as a remix of Shad's "Listen," which includes Green on vocals.
A limited vinyl pressing can be purchased for $12 at the online stores for City and Colour and Shad. The digital version sells for $1.98 on iTunes.
Toronto's Skate4Cancer was formed by Dyer after his mother passed away of the disease.  Over the last 7 years, he has skateboarded across North America, New Zealand and Australia spreading education about cancer prevention. His efforts have resonated in particular with youth through his affiliation with the skateboarding and music communities.
"We're all really good friends," Green tells Samaritanmag. "I actually met Shad through Rob. We go way back, over seven years. This was a fun group effort and we thought it would up the fun-factor to include Rob and Skate4Cancer. It's truly an amazing thing that Rob does. He's always been an inspiration."
The release is a partnership between City and Colour's label Dine Alone and Shad's label Black Box.
girls youth nike high tops shoes Light Smoke Grey