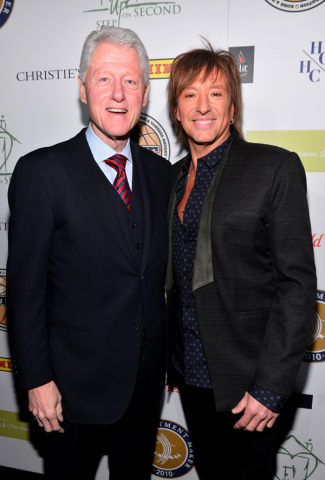 Loads of musicians boast benefit concerts on the resume, but few bands approach philanthropy with the zeal or unwavering commitment of Bon Jovi. The enduring New Jersey-reared rockers don't just play shows for causes, although that's certainly something they've done tirelessly over the years in support of everything from disaster relief to children's charities.
The band's individual members, notably singer/songwriter Jon Bon Jovi and guitarist Richie Sambora, have nudged altruism to the next level, with Bon Jovi actually forming the Jon Bon Jovi Soul Foundation to assist the homeless, poor and disenfranchised in the U.S. and beyond.
Sambora too, has come to the aid of multiple charities, chiefly through his near decade-long association with the Midnight Mission, which aims to restore self-sufficiency to the homeless in Sambora's adopted hometown of Los Angeles through housing, counseling, social programs, education and the like.
"I've always been attracted to the idea of helping people less fortunate," Sambora tells Samaritanmag during an interview to promote his band's newest and 12th studio album, What About Now.  "So I guess that explains why I'm involved in Midnight Mission California, which takes homeless people off the streets and rehabilitates them. I've been working with them for the last eight years."
A recent highlight of Sambora's involvement with the organization came this past January when the guitarist joined former U.S. President Bill Clinton, L.A. Lakers shooting guard Kobe Bryant and wife Vanessa Bryant at the grand opening of Step Up on Vine housing project. 
The project has seen two non-profit housing developers convert a 1920s-era inn located on the corner of Santa Monica Boulevard and Vine Street into a 34-unit, three-story affordable and supportive housing complex for the chronically homeless and transitional youth with mental illness. 
The complex isn't just a great idea; it's also green — the building renovation includes a rooftop garden, green screens on the exterior of the building, domestic solar hot water, and other green touches. During the gala event, Sambora performed songs from his most recent and third solo disc, Aftermath of the Lowdown.
 "The event with Bill Clinton was kind of an off-shoot of my work with the Midnight Mission," Sambora confirms. "Plus I had campaigned for President Clinton in the past," he says, adding that other charities he has advocated for include City Hearts: Kids Say Yes to the Arts, Clothes Off Our Back, Dream Foundation, Elevate Hope Foundation, Feeding America, MusiCares, Precious Paws and Stand Up For A Cure.
"With me, charity started when I was a kid with one of my first garage bands when I was, like, 15 years old," Sambora recalls. "It was in one of the poor neighbourhoods in my hometown [of Woodbridge Township, New Jersey].
"I took my band and we went to this school and I think we charged about $1.25 and packed the place with like 1,500 people and gave all that money to the food drive so a lot of poor families had food on Thanksgiving. And I've just never stopped."
Asked whether he might follow in bandmate Jon Bon Jovi's footsteps, creating his own charitable foundation, Sambora howls, "Maybe! I'm a little busy at the moment." The band is on the road the rest of the year, supporting the new disc with concerts around the globe, and expected to continue into 2014.
"But Jon's foundation, the Soul Foundation, has done an amazing job," Sambora says. "He also is helping people who are less fortunate. So yeah, at one point I'll do that.  Jon… I don't know how he does it. He really is the Energizer Bunny.
"Plus he's got that new kitchen," Sambora says, referencing the JBJ Soul Kitchen restaurant/social experiment where people who can't pay for meals can instead swap their labour.  "That," enthuses Sambora, "is very interesting."
Air Jordan 1 Mid SE 'South Beach' Green/White-Black For Sale