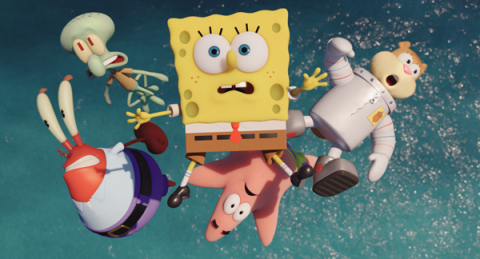 Going to a movie these days can be an overwhelming experience for anyone. Theatres are loud, busy places after all; that is their nature. So imagine the struggles people with autism (and their caregivers) have to endure just trying to catch the latest blockbuster.
But now, thanks to Cineplex Entertainment, this underserved section of the movie-going public can enjoy some of the latest family-friendly films in an environment tailored to their needs. The first in an ongoing series of "sensory friendly" screenings will take place Feb. 14 at select theatres across Canada with a showing of The SpongeBob Movie: Sponge Out of Water. Future titles in this series will include Cinderella (on April 4), Home (on April 18), and The Avengers: Age of Ultron (on May 18). All screenings will take place Saturdays at 10:30 a.m., before theatres open to the general public.
A "sensory friendly" screening entails films being shown in 2D, with increased auditorium lighting, lower speaker volumes and smaller crowds compared to regular screenings. Participating theatres will also provide a "calm zone" nearby should families need a break from the show. Moviegoers can also bring their own food into the theatre to accommodate dietary restrictions, and admission prices for everyone will be the current children's admission price.
The program was developed by Cineplex in conjunction with Autism Speaks Canada, the Canadian branch of the U.S.-based autism science and advocacy organization.
"Our goal is to make movie-going accessible to as many Canadians as possible," said Pat Marshall, vice-president, communications and investor relations, Cineplex Entertainment in a statement. "This partnership with Autism Speaks Canada provides an opportunity to see the latest family movies in a comfortable environment, at a reduced price."
"We are proud to partner with Cineplex on the Sensory Friendly Screening program," said Jill Farber, executive director, Autism Speaks Canada in the same release. "We congratulate Cineplex for its awareness of the unique needs of the ASD community and for providing families an opportunity to enjoy a movie together in an especially welcoming environment." 
Go here to learn more about this program, including a list of participating theatres. Upcoming titles and screenings will be posted up to two weeks in advance
How to Run Faster , Increase Your Running Speed and Endurance