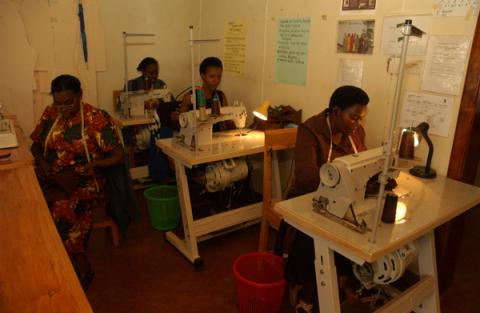 Dreamyz Loungewear sells some snazzy looking pajamas for men and women that will ensure you sleep well in more ways than one. Purchasers can rest easy that the online retailer is helping former Rwandan war victims in the village of Kimironko.
The Canadian company's main objective, according to its web site, is "to help create a sustainable and compassionate work environment for the widows and orphans that survived the Rwanda Genocide of 1994."  The civil war claimed the lives of an estimated 800,000 native Tutsis at the hands of the Hutus in just 100 days.
"I started this project first with the intent to help these women find a way out of poverty," co-founder Johanne St. Louis tells Samaritanmag. "Before the community centre came into their lives, many of them were forced to beg and worse, just to feed their children. Now, they have all the services of the centre and so much more. They have community."
The products — mainly organic cotton pajamas, but the site also lists handbags, jewelry, boxers and dresses — are hand-made exclusively in Kimironko. St. Louis runs the business out of a small Canadian town called Canningtonin, northeast of Toronto, in partnership with Ubuntu Edmonton, the charity which funds Centre César, the community centre where the women work.
"Dreamyz pays [our workers] the equivalent of $20 labour per pair of PJs, plus the cost of materials and shipping," says St. Louis. "This is equal to one weeks average wage in the country and allows the women to provide the basic needs for themselves and their children.
"The women are paid a regular salary each month by myself and Ubuntu Edmonton, regardless of sales," she adds. "This helps to stabilize their lives. The Centre César also provides school sponsorship for their children, free preschool for young children, access to medical consult, free massage therapy and a food bank. The list goes on."
The garments are created with luxurious fabrics in vivid colours and accented with pearl shell buttons and contrasting piping.
 These pajamas, which sell for $59.95 CAD, are made with organic cotton and presented in a gold organza pouch.

 "Keeping in mind many of these women had no previous experience, they are doing exceedingly well and are able to produce very good quality pajamas," says St. Louis proudly.
"At some point, it would be nice to earn a living myself doing this and we do have to sell pajamas to keep the project going. We hope that people will support us in our early stages of the project by buying our PJs so we can grow and develop and become a viable business."
To shop online, find a retailer or wholesale, go to www.dreamyz.ca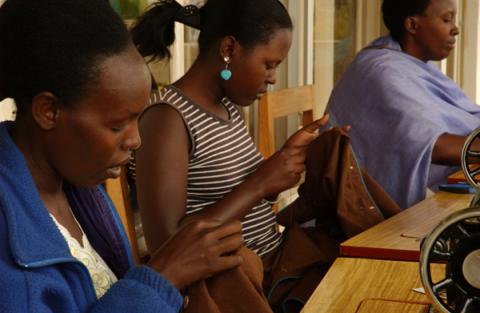 Sneakers